Last Updated on May 19, 2023 by River Tree Farms
Did you know that chicken is one of the most popular meats globally? It is easily accessible, affordable, delicious, and packed with nutrients. It is, therefore, no surprise that there are so many chicken recipes.  From grilling to boiling and stewing, you can never run out of a way to consume your chicken. The hui hui chicken recipe is one of the most amazing ones. Like many Hawaiian dishes, it is a burst of various flavors. The dish can be prepared in the oven, air fryer, or instant pot. Here are a few tips for cooking hui hui chicken dish.
1. Grilled Hui Hui Chicken Recipe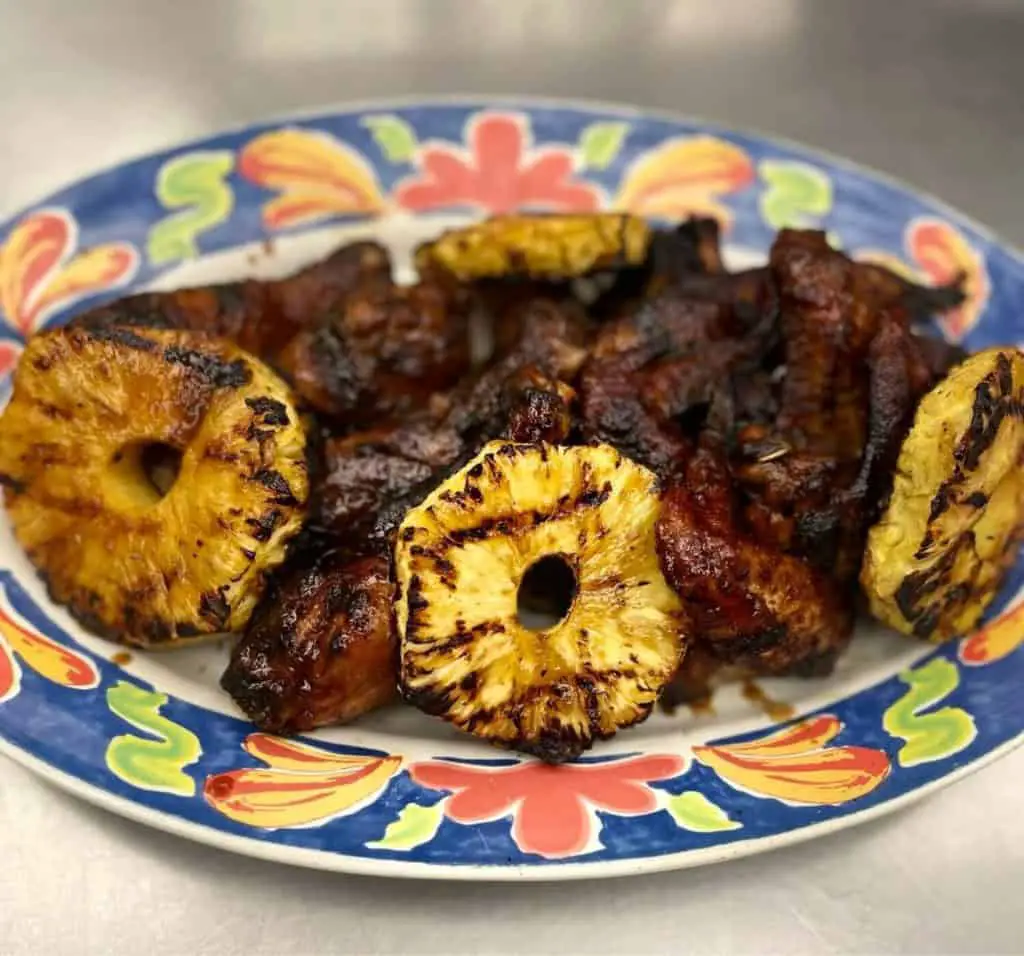 Grilling is the traditional way to cook hui chicken. It is fast and ideal for preserving flavors. The general rule is to keep turning your chicken and basting it with hui hui sauce. However, you can attain a pleasant taste even without turning your chicken consistently.
What Do You Need?
2/3 cup brown sugar
1 1/4 cups kosher salt
5.6 liters of water
3.5 lbs. chicken
½ teaspoon dried habanero pepper
3 tablespoons paprika
3 tablespoons garlic powder
2 teaspoons cumin
2 teaspoons dried mustard
1 ½ teaspoon cracked pepper
Huli Huli Chicken Sauce Ingredients
½ cup honey
½ cup ketchup
½ cup soy sauce
1/3 cup brown sugar
1/3 cup apple cider vinegar
1 ½ cups pineapple juice
1 ½ tablespoon lime juice
3 tablespoons Worcestershire sauce
3 tablespoons sesame oil
3 tablespoons ginger
Instructions
Put 2/3 cup brown sugar, 1 ¼ cup Kosher salt, and 5.6 liters of water together and allow them to mix. Stir thoroughly, ensuring that all the ingredients dissolve.
Cut your chicken into half and wash it. Put your chicken in the brine mixture and refrigerate overnight.
In the morning, take your chicken out of the refrigerator and pat it dry.
Mix all your spices in a bowl and rub them on your chicken.
Set your grill to indirect heating with the temperature at 250° F. Set it up to indirect, two-zone heating when using a kettle or gas grill. You can smoke it with applewood or other mild woods.
Grill your chicken for about half an hour and flip it.
While it cooks, you can start making your dipping sauce. Pour all the sauce ingredients into a saucepan and set to medium-high heat. Bring it to a low simmer and cook for about 40 minutes. The sauce should be thick and about half of what you initially put into the saucepan.
When your chicken hits 150 degrees F, remove it from the grill and increase the temperature to the highest setting. Put your chicken back on the grill and drizzle the sauce. After about eight minutes, turn the chicken to glaze the other side.
Avoid burning your chicken, and cook until it reaches 160 degrees F. Flip, and cook it over.
2. Cooking Hui Hui Chicken In an Instant Pot
Ingredients
1 tablespoon minced ginger
4 pounds skinless and boneless chicken thighs
1/3 cup brown sugar
1/3 cup chicken broth
8 tablespoons reduced-sodium soy sauce
2 tablespoons minced garlic
8 tablespoons ketchup
Directions
Combine the garlic, brown sugar, ginger, soy sauce, broth, and ketchup in a bowl. When everything is well-mixed, pour it over your chicken.
Put the lid over your instant pot, ensuring the valve has been sealed well.
Set your pressure cooker to about 17 minutes when cooking fresh chicken. Allow the pot to cool for roughly seven minutes, and remove the lid.
Place your chicken on a platter and set your instant pot to sauté. Boil for roughly five minutes to reduce the sauce.
Add some extra sauce to the chicken.
3. Cooking With a Slow Cooker
Mix the broth, ginger, brown sugar, garlic, and soy sauce in a bowl. Stir thoroughly and dip your chicken into the mixture, ensuring that all parts are covered.
Cook on low heat for four to six hours.
When it is done, add extra sauce to the chicken.
4. Air Fried Hui Hui Chicken Recipe
Cooking your hui hui chicken in the air fryer is a great idea if you want to obtain exotic flavors. Making the chicken and sauce together saves you time. The result is a delicious meal, perfect for your family.
Ingredients 
6 boneless skinless chicken thighs
For the sauce
3 tablespoons ketchup
1/3 cup soy sauce
2 tablespoons minced garlic
1 ½ tablespoons minced ginger
1/3 cup green scallions (chopped)
1/3 cup sugar
12 ounces canned chunks of pineapples and juice
Directions
Using a fork, put pork holes in your chicken and put it in a bowl.
Mix 1/3 cup pineapple juice, ginger, ketchup, garlic, soy sauce, and sugar.
Drizzle half the sauce on your chicken and ensure that all chicken pieces are well-coated. The remaining sauce can serve as a dipping sauce.
Put the chicken in an air-tight container and marinate it in your refrigerator for 24 hours.
Put your marinated chicken in the air fryer for 15 minutes and set it to 360 degrees F, turning when halfway done.
Microwave the remaining sauce for 45-60 seconds, stirring every 15 minutes. The goal is to make it thick.
Your chicken should reach 165 degrees F. Serve it with green onions at the bottom of the dish and pineapples on top. Cherry tomatoes may also be a great addition to the dish.
Drizzle some of the sauce on it.
Conclusion
In conclusion, huli chicken is a Hawaiian term for chicken cooked by turning. It was traditionally cooked under a barbecue or over a fire. Today, however, you have other options. You can make a hui hui chicken recipe by grilling with an air fryer or instant pot.
The basic ingredients for your sauce include ginger, garlic, sugar, ketchup, and soy sauce. The blend of textures and flavors is what makes it so special. No matter how you choose to prepare the Hawaiian dish, you are in for a treat.