Last Updated on May 19, 2023 by River Tree Farms
Cosori is a kitchen appliance that makes delicious, healthy food without using oil. Cosori air fryer is also an intelligent air fryer that has various smart features. For example, this smart gadget can connect to wifi during use.
If you're considering buying a Cosori Air Fryer, you likely want to know how to connect Cosori Air Fryer to wifi. Here's how you do it.
Suppose you have your Cosori air fryer there with you. You need to have your iPad, iPhone, or Android device that has access to WI-FI. You will also need to download an app. Read the article to learn the complete process.
What are the benefits of Air Fryers with wifi?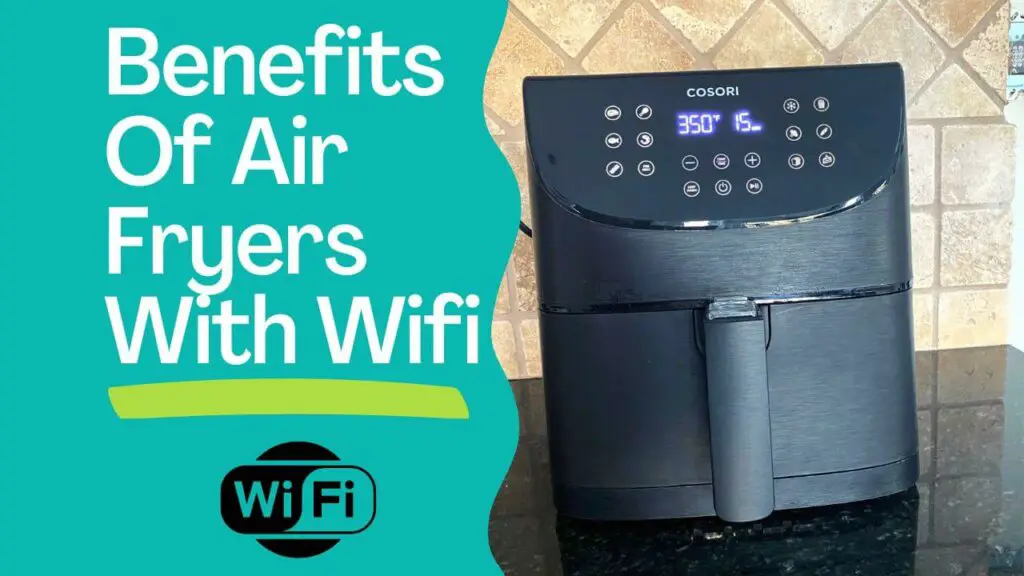 There are a lot of perks to using a WiFi-enabled smart air fryer. You can remotely control the ongoing activities of the air fryer. 
The Cosori air fryer needs an app called Vesync to connect to WiFi. You can get the app from the Apple App Store, or the google play store. This app allows you to start, monitor, and even stop the cooking process without going to the kitchen.
Here are some of the reasons to consider using the Cosori Smart Wifi Air Fryer:
1. Intelligent Monitoring
The remote operation of the air fryer is the biggest advantage. You can operate the air fryer from the comfort of your couch, home garden, or even bed. You will be able to monitor the temperatures and cooking time and adjust.
Your food will never overcook or undercook. The app also acts as a stirring reminder, so you can rush to the kitchen and stir your ingredients for even cooking.
2. Safety
The mobile phone app connected to the air fryer's wifi will notify you when things are not in order in the air fryer. For example, if the air fryer overheats and you are not in the kitchen, the mobile app will notify you. You will be able to stop the air fryer preventing fire hazards remotely.
3. Voice Control
The wifi connectivity in an air fryer will allow it to connect with Amazon Alexa or Google Assistant. You will only need to command the air fryer on what to do without touching it. The mobile phone voice assistant can take your commands.
You can multitask and get your work at home done simultaneously without interference.
4. Delayed and Flexible cooking
You can prepare your ingredients hours in advance, put them in the air fryer basket, and walk away. You will be able to cook them later at your comfort and desired time using your mobile app or Alexa voice control. You will be able to adjust your cooking cycles using the cooking presets.
5. Cooking memory
The app will save all the dishes you have previously prepared in your air fryer. You can save the settings that turned out perfect for a particular meal and keep them for future use.
6. Recipes Bonus
Most WiFi-enabled air fryers use the app with more than 100 recipes to prepare a wide range of food. You can choose any from them according to your personal preferences. These air fryer recipes will ensure crispy foods without compromising your health.
Does Cosori Smart Air Fryer have wifi?
Wi-Fi network connectivity in air fryers is the beginning of new smart appliances. And they are taking their rightful place on your kitchen countertop.
Cosori Smart Wi-Fi air fryer also has wifi thanks to its smart functions. The wifi icon on the control screen can be connected by the Cosori air fryer app called Vesync. It is found on the e-store, app store, and google play store. App control through Vesync will make air frying easier.
The Vesync mobile app allows you to remotely control your air fryer. Without you being in the kitchen to use the control panel.
The Wi-Fi connectivity enables the Cosori smart air fryer to connect over a voice command. It is done through the intelligent home function, Alexa.
How do I connect my air fryer to wifi?
The WiFi network setup process on your Cosori Smart Wifi Air Fryer is very easy. Mostly you will have to follow the screen instructions. Still, a step by step guide is given here:
Connect your phone to the available wifi connection of at least 2.4 GHz.
Download the VeSync app or scan the QR code from the app store or play store.
Login in if you have an existing account or sign up to create an account.
Connect your Cosori air fryer to the power and turn it on. You will see a steady wifi icon blinking on the display screen. If the wifi is not blinking, press the power button for about 5 seconds, and the wifi icon will appear.
Turn on the wifi icon on the digital control panel of your Cosori air fryer.
Back to your VeSync app on your mobile, enabling access to search for devices.
Press the home button and select the 'plus' icon. It should bring up a category called 'kitchen-Cosori smart air fryer.' Select to connect to the Cosori air fryer.
Confirm the model number. The model number location is at the base of your air fryer or the Cosori Smart wifi Air Fryer manual.
It will connect, and you can start your unique experience with your air fryer.
How do I reset my Cosori Air Fryer wifi?
If your Cosori air fryer wifi is not working, resetting might be the best option. You can do it by
Pressing the power button for 5 seconds
And repeat the process until the wifi icon blinks rapidly on the digital display.
Then reconfigure your Cosori air fryer to the VeSync mobile app.
The Cosori air fryer wifi reset will also be necessary after:
Power loss- Disconnects the wifi connection.
Internet outage-no wi-fi connection.
Change of wifi routers-Change of passwords.
All the mentioned instances will disconnect the wifi connection and the VeSync app.
When the wifi connection and restoration are back, turn on the wifi on the air fryer and your phone.
To connect the air fryer to the VeSync again, you need to relaunch the VeSync app to restart the connection. If it still does not connect with Wifi, contact with your internet service provider.
Why my Cosori Smart Fryer may not Connect?
Sometimes you may face connectivity issues with your air fryer. It can happen due to the following reasons:
1. Electricity Issue
Check if your air fryer is connected to a power socket and if electricity is available.
2. Poor Internet Connection
If your internet connection is poor, the fryer may not be connected.
3. Air Fryer Mistake
Common air fryer mistakes can cause your air fryer to malfunction. This may cause temporary disconnection.
4. Touch screen control panel
The One-touch LED panel in the Cosori air fryer is pretty impressive. But it still has a lag issue. So many times, you may need to wait after pressing the wifi button. You may also need to press it twice.
If these are the reasons for your disconnectivity, following the solution should help. Contact with customer service if you still face problems.
Additional Benefits of Cosori Smart Wi-fi Air Fryer
Cosori Smart air fryer is an amazing addition to your kitchen. It provides a plethora of advantages. Air fryer users will love its advanced design features and customizable cooking functions. Also, it has-
Easy-to-clean dishwasher-safe Basket
Proper air circulation
Controllable cook time
Built-in safety features
Features for frozen foods
Preset cooking.
Conclusion
So you've learned to connect your Cosori air fryer to wifi. Now you'll be able to control your air fryer from anywhere in your comfort.
Ensure the device is connected to wifi and the internet connectivity is excellent. If you still have a problem connecting the Cosori air fryer to wifi, learn more from the manual.