Last Updated on May 19, 2023 by River Tree Farms
Which is best for cooking between the Nuwave Bravo XL air fryer and the Emeril Lagasse Power Air fryer 360? How can you choose the best option for your family?
When it comes to large capacities and more positive reviews, Nuwave Bravo XL shines! But Power 360 has unique features like a rotating mesh basket and broil functions.
Since it can be hard to tell which is best for your needs, our focus today is to check Nuwave Bravo XL Vs. Power Air Fryer 360 and clearly compare the two for you to make the best choice.
Nuwave Bravo XL Vs. Power Air Fryer 360 Comparison Chart: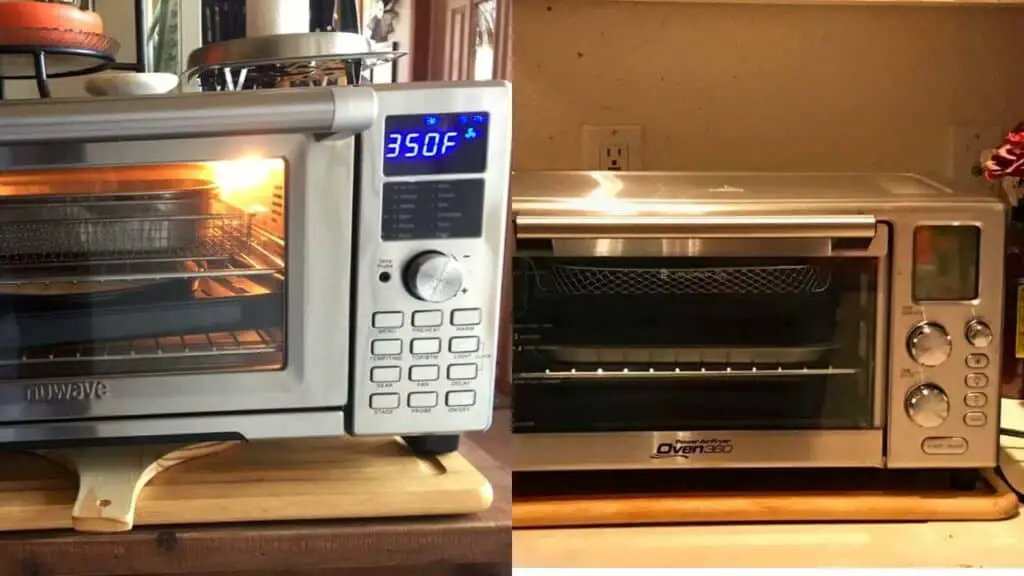 Before we go into much comparison details, One thing you must know. It is good to remember that Nuwave Bravo XL is mainly a smart countertop convection oven. But It does come with a fantastic air frying feature. It has triple cooking technology. Which consists of a temperature probe, precise time, and temperature control.
On the other hand, the power air fryer 360, known is mainly an air fryer that can be confused with a toaster oven. This product is from the product lines of Chef Emeril Lagasse. Power Air Fryer 360 comes with a french door and a great range of cooking options.
As far as cooking appliances go, they both are good. Here is a quick comparison between the two:
Air Fryer Oven
Nuwave Bravo XL
Power Air Fryer 360
Dimensions
20″ by 11″ by 13.5."
15.1″ by 19.3″ by 10.4."
Size
30 Quarts
16 Quarts
Functions
12 preset cooking functions: Grill, Waffle, Bake, Frozen, Reheat, Roast, Toaster Oven Features, Dehydrate, Bagel, Yogurt, Pizza & Air fry feature. [Additional 100 pre-programmed recipe presets]
12 preset cooking functions: Toaster Oven Features, Pizza, Bagel, Air fry, Broil, Bake, Rotisserie, Warm, slow cook, reheat, dehydrate, and roast.
Heating elements
5 Heat Elements
5 all-over heating elements
Interface and Control Panel
-Easy to understand modest user interface
-LCD complemented by an LED light display
-The cooking presets have the precise coking buttons
-Excellent control panel
-Simple LCD control panel -Temperature, time, and other preset cooking functions button
-Calibrated markings on the door
Accessories
Air fry basket Baking pan Cooking rack Crumb tray Recipe book
Rotating mesh basket Rotisserie spit and forks Drip tray Pizza rack Baking pan Crisper tray Recipe book
Temperature Range
100-450 degrees Fahrenheit
120-400 degrees Fahrenheit
Power
1800 watts
1500 watts
Mentionable
Bakes perfect pizza with 30% crispy crust
Can reduce fatty food consumption up to 70%
Price
Approximately $150, an affordable price
Approximately $174
What's the difference between a Nuwave Bravo XL Vs. Power Air Fryer 360?
Nuwave Bravo XL is huge, measuring 20 by 11 by 13.5 inches. Compared to this, Emeril 360 is a compact size oven. Its dimensions are 15.1 by 19.3 by 10.4 inches.
Besides the Nuwave Bravo Air Fryer Toaster Oven combo has a larger cooking chamber. You also need a little more prominent space in the kitchen where you place it.
The size here is in consideration of the number of quarts. Nuwave bravo Xl air fryer has a significantly bigger capacity of 30 quarts. It is bigger than Emeril's 9-1 Air Fryer, which only contains 16 quarts.
Both appliances have 12 preset cooking functions. But these functions are a bit different. The different presets in the Nuwave Bravo Xl are grill, waffle, and frozen. The cooking process is made easier with preprogrammed recipes and constant power adjustments.
In the Emeril Air Fryer as well as the Power air fryer XL, there are other preset cooking functions. They are broil, rotisserie, and slow cooking facilities.
Nuwave Bravo XL has a Digital Temperature Probe for excellent temperature control. It helps in cooking your food perfectly. It also has an LCD with LED lights for the preset buttons to be able to see well. Power air fryer 360, on the other hand, doesn't have lights though it also has an LCD panel.
It also has labels to control temperature, time, and other functionalities. It also has markings on the door that helps you keep track of your activities. For example, inserting trays and inserting oven racks and pans.
Nuwave Bravo XL is more powerful, with 1800 watts, while the Emeril Lagasse air fryer has 1500 watts. That means cooking time in Nuwave is lesser than Emeril's.
The Nuwave Bravo XL has a temperature range of 100-450 with five different adjustment options, while the Power air fryer 360 has a temperature range of 120-400 with five other heat elements.
Nuwave oven Air Fryer combo offers better air circulation than a regular oven. Its changeable cooking temperature offers precision cooking. 
But as Emeril Lagasse Power 360 is mainly an air fryer, it air fries better.
Each appliance comes with different unique accessories that aid in precise cooking. Nuwave Bravo XL, for example, is a good convection oven and air fryer. So, what supplements does Nuwave Bravo XL have? It includes:
baking pans,
broiler racks,
an air fry basket,
a Pizza cutter and peeler,
a Drip tray,
and a digital temperature probe.
A recipe book and user's manual.
Power air fryer 360, all the same, has valuable accessories, including:
a Crisper tray,
Baking pans,
Pizza rack,
Drip tray,
and rotisserie stick.
a recipe book with 30 cooking recipes from Chef Emeril Lagasse himself!  
Does the NuWave Bravo XL dehydrate?
Yes! NuWave Bravo XL can be used to dehydrate food in a very effective way. Its unique control over heat delivery makes the task easier. 
How do you dehydrate using a Nuwave oven? We have explained it here in a very brief manner,
Rinse your fruits/vegetable as you remove the bruises
Steam/steam-blanch them and place them in cold water, and drain.
Slice them thinly
Place them on the Nuwave drying rack.
Set the wave oven to a low level of 125F
Allow the food to dry as wished.
Allow the ingredients to cool off entirely.
Check the characteristics of dehydrated food as described by the manufacturer.
Is the NuWave Bravo XL noisy?
Yes! The Bravo air fryer is noisy. But you don't have to worry about it. This noise is contributed to by:
It uses a convection fan to circulate hot air around the food. A convection fan will have more sound when compared to a traditional oven.
It has an electromagnetic coil that emits a relatively high-frequency sound.
Please note that the noise will disappear as soon as the oven bravo air fryer goes off.
How big is the NuWave Bravo XL?
The NuWave Bravo XL air fryer is 20 x 13.5 x 11 inches. It is considered an air fryer big enough to accommodate a whole chicken or two pounds of fries. It also requires enough space to place it. The NuWave Bravo XL weighs 19 pounds, which might be too heavy for some people.
But The Nuwave Bravo XL will prepare large meals at a go. It has a capacity of I cubic feet or 30 quarts, making it an obvious choice for families with more members.
Does NuWave Bravo XL use aluminum foil?
Yes, Aluminium foil is safe for use in a wave bravo air fryer. Any cooking utensil/cooking material used in a conventional oven can also be used in a wave oven.
Using parchment paper to prevent sticking might be better. It will still work perfectly if you want to cover the drip tray with aluminum foil. Before putting food inside, you can also cover the bottom rack or basket with aluminum foil. You can also cover the crisper tray with aluminum foil.
NB: If you are air frying, you should leave some space to allow the air to flow. The air fryer circulates that hot air around the food under high pressure. Therefore, you should not cover all the holes in the air fryer basket to allow your food to cook correctly.
Downsides of Nuwave Bravo XL
Nuwave Bravo XL oven has many ups over traditional ovens. But still, nothing is perfect. Some downsides may include:
Nuwave's digital display has some mixed reviews. Many users have issues with digital displays and digital controls.
This air fryer toaster oven has a rotisserie function. But many users find it takes way too much time.
The Bravo air fryer is a bit bulky to carry around your kitchen countertop
It has a fan that has to run when the air fryer is in function mode producing an annoying whiny sound.
Is the air fryer 360 worth it?
It is! Air fryer 360 is a good buy if you're looking for a kitchen appliance that can do more than just air fry. The Air Fryer 360 has a lot of features that make it stand out from other air fryers in the market:
Fries food with little or no oil -Healthy cooking
air-fried foods
Can bake and roast meats, vegetables, and desserts in addition to frying them-Versatile
Excellent temperature ranges control
Good capacity in size
Cooks food quickly and evenly-saves time
It is easy to use and control
It is easy to clean
convection heat
Versatile Cooking Functionalities
advanced control panel
Value for money-price
Conclusion
On Nuwave Bravo vs. Power Air Fryer 360, they are excellent choices for anyone looking to get a new air fryer. They have exceptional features with different preset cooking functions. They each have their pros and cons, but ultimately it comes down to what you're looking for in your air fryer.
If you're looking for a high-capacity air fryer that can hold up to 3 pounds of food, the Nuwave Bravo XL is the way to go. This model can cook more food than any other air fryer in its class. Making it ideal for families or anyone else who wants to cook large amounts of food at once. It also has adjustable temperature settings to get the best results from each dish you make.
The Power Air Fryer 360 is also an excellent option. Especially if you want something that has a large capacity and adjustable temperatures. However, this model has a smaller capacity than Nuwave Bravo XL.