Last Updated on May 19, 2023 by River Tree Farms
Blender Bottle has become the household staple for making nutrition shakes. However, you have probably asked the question, 'Are blender bottles dishwasher safe?'
Even if you rarely use your blender, you want to ensure that it is always clean and in its best condition. Bottle brush may do the job but you want the convenience of a dishwasher. Please keep reading to learn whether they are dishwasher safe.
Are Blender Bottles Dishwasher Safe?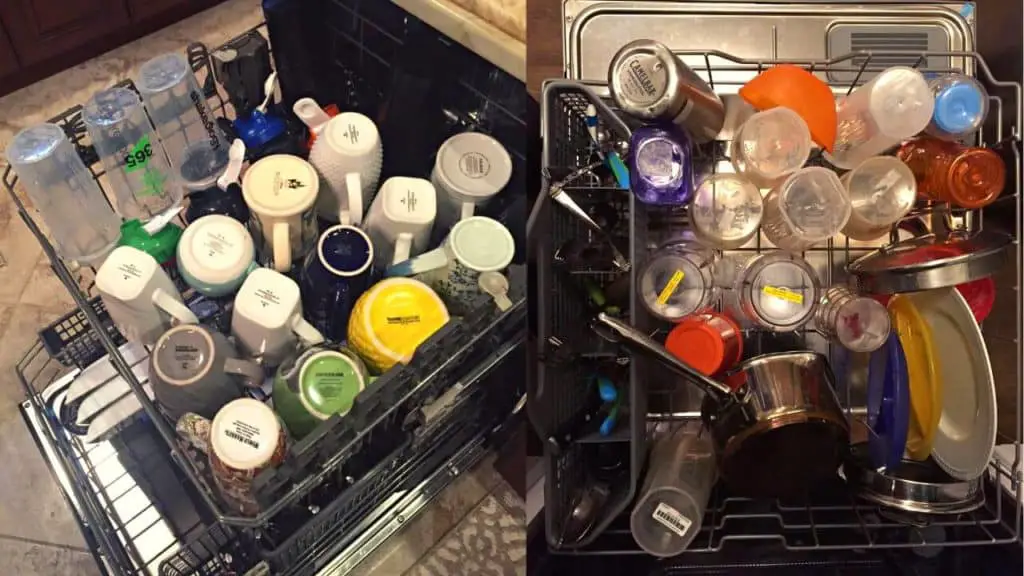 Blender bottles are convenient because of their size and ease of use. They are ideal for making fiber-oriented drinks, and protein shakes. The bottles are generally top rack dishwasher safe. Manufacturers recommend that you put the lid and cup on the top-rack dishwasher. The wire whisk metallic ball goes to the silverware bin. Always use mild soap for the best result.
If you put your blender bottle in the dishwasher, ensure that you put parts in the right places. Since the top rack has no warm water, it is ideal for your dishwasher bottle.
Which Blender Bottles are Dishwasher safe?
As of now, there are a lot of blender bottles available in the market. Blender bottles company offers something for almost everyone. Based on your personal preference, you can choose from their collections such as:
Standard Blender Bottles
Vacuum-Insulated Blender Bottles
Glass Blender Bottles
Portable Blender Bottles
Shaker bottles
Wide-Mouth Blender Bottles etc.
But not all of them are safe in the dishwasher. To make it easier, we present the chart below:
| Material | Is it Dishwasher Safe? |
| --- | --- |
| Plastic | Yes, it can be washed in the dishwasher. |
| Glass | Yes, it can be washed in the dishwasher. |
| Stainless Steel | No, wash with warm water and mild dishwashing soap |
| Silicone | Yes, it can be washed in the dishwasher. |
Hand Washing Blender Bottle
Although your blender bottle is dishwasher safe, you can also hand wash it with some soapy water. This kills germs and removes foul odors and residue at the bottom of your bottle.
Do not leave powders and other residues at the bottom of your bottle for too long. If you do, they could discolor your bottle. Your dishwasher may be unable to get rid of the discoloration.
Removing the discoloration from your blender container requires special attention. Dishwashing liquid and mild soaps are good at removing odors. But they can sometimes be unable to remove stains. The best practice is:
Roll a piece of newspaper with water and place it in your blender bottle.
Put the blender bottle back together and secure the lid when you are done.
Vinegar and baking soda solution could also be great for removing foul odor.
Washing Blender Ball of Blender Bottle
Inside every blender bottle, there is a metal mixing ball. It is made of surgical-grade stainless steel. The metal ball aids in the breakdown of any lumps or clumps in the mixture, resulting in a smooth, blended drink. It is also machine washable.
Here are the steps to clean it:
Remove the ball 
Wash the ball with simple soap, mild dishwashing soap, etc.
Or put the ball in the silverware bin of the Dishwasher
Dry the ball completely
Place it back inside the bottle.
How to Remove Odors From Your Blender Bottle Shaker Cups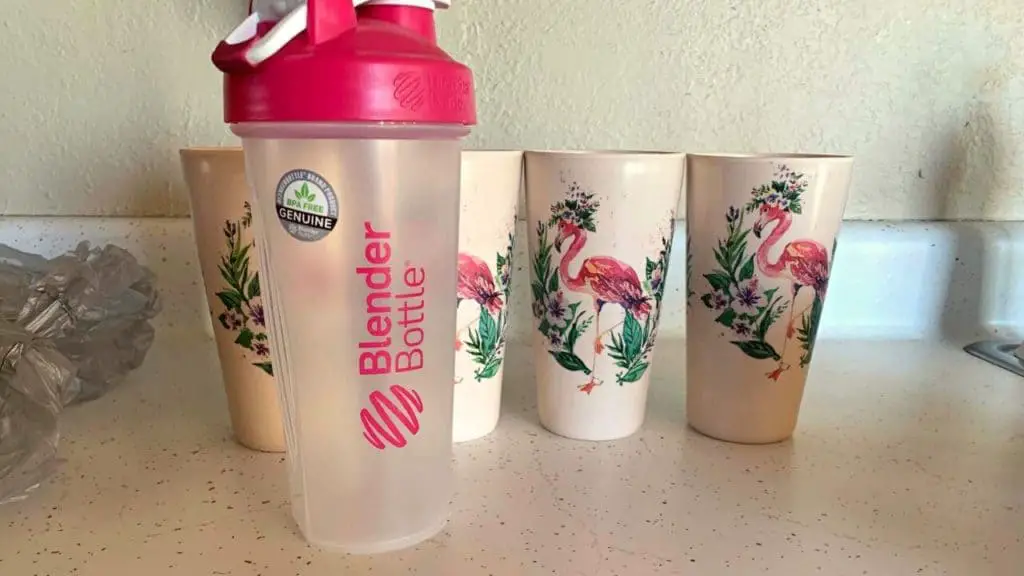 Is your bottle getting stinky? It can be an indication that your bottle is dirty. Maybe you left your week-old protein shake in it.
BPA-free plastic bottles tend to retain smells if not cleaned shortly after use. What can you do to curb bad smells and keep your blender bottle fresh?
Washing it with dishwashing liquid and warm water can remove bad odors. But sometimes, a bottle cleaning brush and dish soap may fail at eliminating bad odors. Then you can follow this direction of cleaning: 
Fill the bottle with a vinegar-baking soda solution and let it soak overnight. Keep the lid open. In the morning, run a regular wash cycle.
Put damp coffee grounds in the bottle and screw the lid on. Let it sit overnight, and gently wash it with mild soap in the morning.
Put a few drops of plain water on a piece of newspaper. Crumble it and place it inside the bottle. Alternatively, you could use paper towels with a few drops of vanilla extract. Allow them to sit for 24 hours with the cap closed, and wash thoroughly in the morning.
Mix a cup of lemon juice with equal part water. Pour the mixture into your water bottle. Give it a quick shake and keep it overnight. The acid in lemon juice will kill the bacteria responsible for the unpleasant odor.
Use a wet wipe or paper towels to wipe off any residue.
Air dry your bottle after regular cleaning. Letting some air in can work wonders.
Precaution When Using Blender Bottles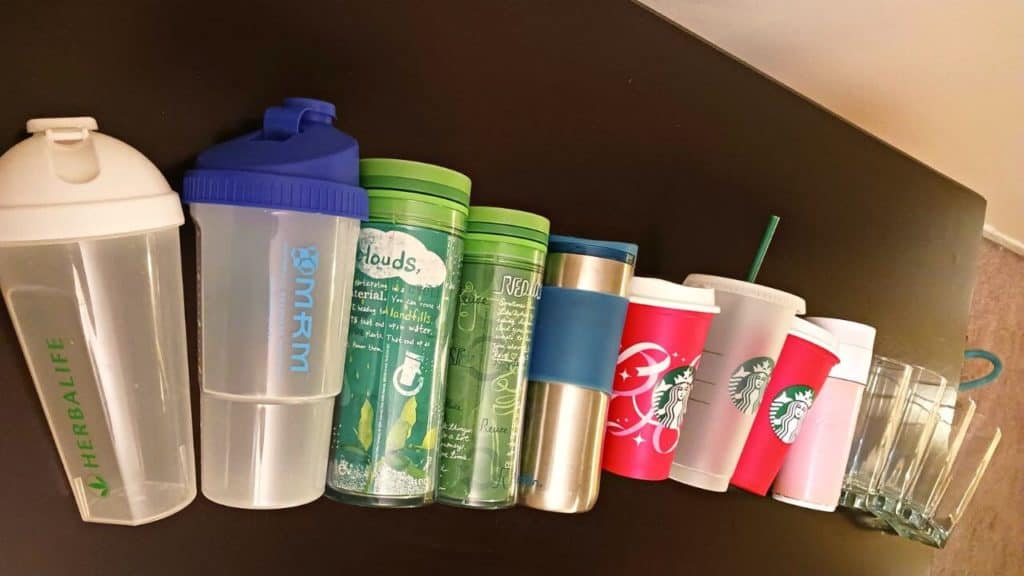 Blender Bottle shaker cups aren't designed to hold warm or cold liquids. The leak-proof seal bottles have a secure seal that doesn't let pressure escape. Putting warm or hot liquids could be a bad idea. Because it may make the flip cap burst open unexpectedly, spraying its content around.
Ensure that your spout is always facing away from your face as you open the flip cap.
Be careful when mixing ingredients that could cause pressure buildup. Common examples include waffles and pancake batter. As you mix the ingredients, keep a finger over the cap as you shake. Be careful when opening it.
Be mindful of the types of ingredients you use in the blender bottle. Try not to use highly acidic drinks. Specially, in stainless steel bottles and stainless steel shaker bottles. 
Clean the wire whisk ball after every use. Check if any protein powder is sticking to it. Wipe it dry with a clean towel.
If unpleasant smells persist, it may be time for you to replace your blender bottle. It is a bad idea to use expired blender bottles.
Frequently Asked Questions
How to prolong blender bottle life?
To prolong the life of your blender bottle, clean it after every use. Wipe it gently with a clean towel. Do not use harsh chemicals or bleach solution to clean it. Don't put hot water on shaker bottles. But pouring warm liquid is usually fine. Air dry it after each wash. 
Are insulated blender bottles dishwasher safe?
No. Almost every blender bottles are dishwasher safe, but insulated blender bottle is Radian. So even though it will keep your hot water hot, you cannot put it in the washer.
Is the blender ball dishwasher safe?
The steel blender ball wires are dishwasher-safe. The website recommends putting it in the silverware bin so that it doesn't get stuck or lost. 
When should you change your Blender Bottle? 
Replace the bottle if you notice any cracks, leaks, or worn-out mixing balls. Usually, it is recommended to change the classic blender bottle every 6 months.
What can you do if your Blender Ball wire whisk corrodes? 
If the metal ball becomes discolored or has rust spots, it should be replaced. For more information on obtaining a replacement ball, contact the manufacturer.
How often should you change your blender bottle?
The frequency at which you should change your blender bottle will depend on various factors. Such as usage, the type of drink or food that is mixed, and the level of cleaning and care. Usually, it is recommended to change the classic blender bottle every 6 months.
Are protein shake bottles dishwasher safe?
Many protein shake bottles are dishwasher-safe. Most parts are safe to wash on the top rack of your dishwasher. However, you should always check your manual for detailed information.
Conclusion
If you enjoy making protein shakes, the question 'Are Blender bottles dishwasher safe?' has probably crossed your mind. Keeping them clean is a priority if you hope to preserve their lifespan.
To avoid foul smells and protect your health, you should maintain proper maintenance. Luckily, they are dishwasher-safe. But for the best result, hand wash them with clean soapy water.
Read More:
Are Starbucks Cups Dishwasher Safe? Find Out Now!
Are Vitamix Containers Dishwasher Safe?