Last Updated on August 25, 2022 by Peralta
Blenders have become kitchen essentials. From smoothies to protein shakes and soups, you need them for almost all your kitchen recipes. Blender Bottle has become the household staple for shaker bottles. However, you have probably asked the question, 'Are blender bottles dishwasher safe?' Even if you rarely use your blender, you want to ensure that it is always clean and in its best condition. Please keep reading to learn more about blender bottles and whether they are dishwasher safe. 
Are Blender Bottles Dishwasher Safe?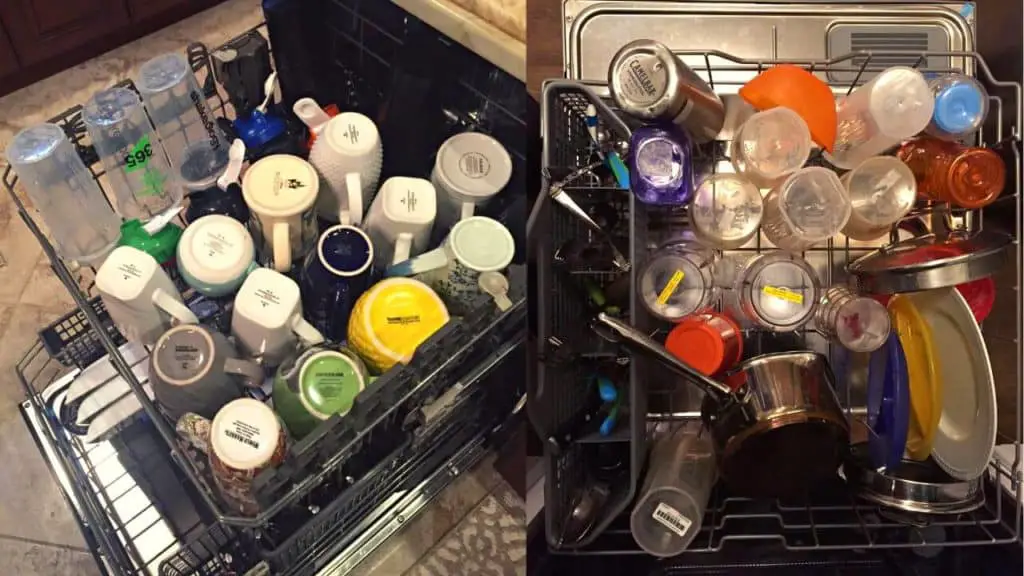 Blender bottles are convenient because of their size and ease of use. They are ideal for making fiber-oriented drinks, and protein shakes. The bottles are generally dishwasher-safe. Manufacturers recommend that you put the lid and cup on the top rack. The wire whisk and blender ball go to the silverware bin. 
Although your blender bottle is dishwasher safe, you can also hand wash it with some soapy water. This kills germs and gets rid of odors and residue at the bottom of your bottle. 
If you leave powders and other residues at the bottom of your bottle for too long, they could discolor your bottle. Your dishwasher may be unable to get rid of the discoloration and odor. 
The best way to remove the discoloration is with a charcoal briquette inside a newspaper. Roll the piece of charcoal inside a newspaper and place it in your blender bottle. Put the blender bottle back together and secure the lid when you are done. Vinegar and baking soda solution could also be great for removing foul odor. 
Should you choose to put your blender bottle in the dishwasher, ensure that you put parts in the right places. Since the top rack doesn't have any warm water, it is ideal for your dishwasher bottle. 
How to Remove Odors From Your Blender Bottle Shaker Cups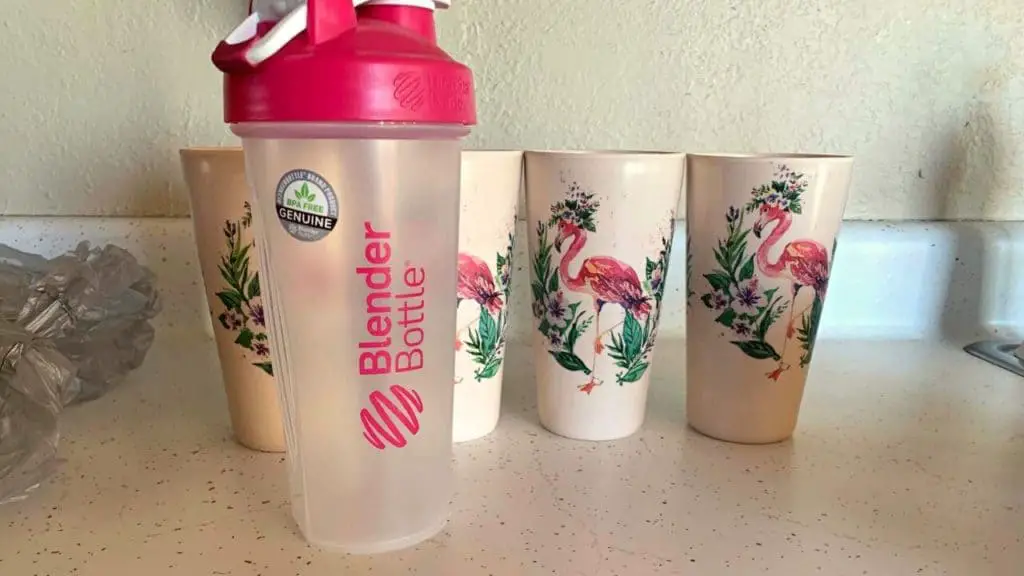 Is your bottle getting stinky? This can be more than an inconvenience. It can be an indication that your bottle is dirty. BPA-free plastics tend to retain smells if not cleaned shortly after use. Here are a few tips to curb bad smells and keep your blender bottle fresh. 
Fill the bottle with a vinegar-baking soda solution and let it soak overnight. Keep the lid open. In the morning, wash it as you normally do. 
Put damp coffee grounds in the bottle and screw the lid on. Let it sit overnight and wash normally in the morning. 
Put a few drops of water on a piece of newspaper. Crumple it and place it inside the bottle. Alternatively, you could use some paper towels with a few drops of vanilla extract. Allow them to sit for 24 hours with the cap closed and wash thoroughly in the morning.
Air your bottle after regular cleaning. Letting some air in can work wonders. 
Precaution When Using Blender Bottles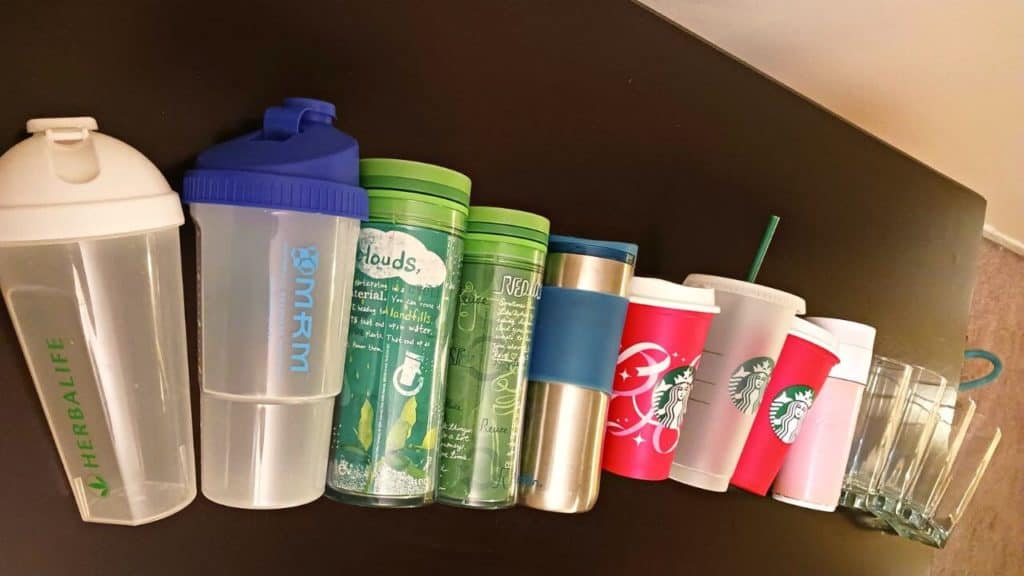 Blender Bottle shaker cups aren't designed to hold warm or cold liquids. The seal bottles have a secure seal that doesn't let pressure escape. Putting warm or hot liquids could make the flip cap burst open unexpectedly, spraying its content around. 
Ensure that your spout is always facing away from your face as you open the flip cap. 
Be careful when mixing ingredients that could cause pressure buildup. Common examples include waffles and pancake batter. As you mix the ingredients, keep a finger over the cap as you shake. Be careful when opening it.
Frequently Asked Questions
Are insulated blender bottles dishwasher safe?
Yes, many blender bottles are dishwasher-safe. However, you can also hand wash them with soapy water. If there are any stains or unpleasant smells, remove them by soaking them in a vinegar-baking soda solution.
Are protein shake bottles dishwasher safe?
Many protein shake bottles are dishwasher-safe. Most parts are safe to wash on the top rack of your dishwasher. However, you should always check your manual for detailed information.
Read More:
Are Vitamix Containers Dishwasher Safe?
Is Nespresso Aeroccino Dishwasher Safe?
Conclusion
If you enjoy making protein shakes, the question 'Are Blender bottles dishwasher safe?' has probably crossed your mind. Keeping them clean is a priority if you hope to preserve their lifespan, avoid foul smells, and protect your health. Luckily, they are dishwasher-safe. In addition, you can hand wash them with clean soapy water.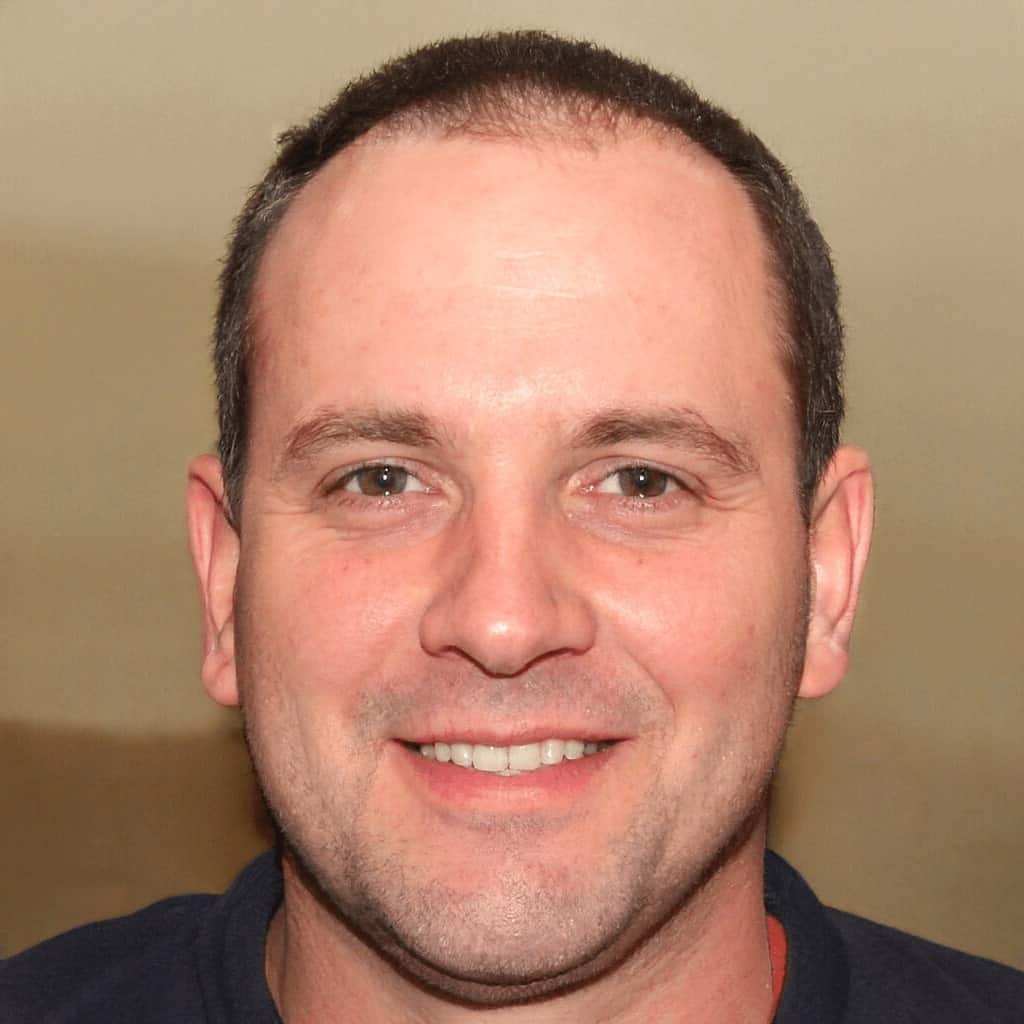 Hi, My name is Lawrence B. Peralta. I am sharing with you all the home and kitchen related tips on my blog. My team and I are trying our best to solve your problems in detail. I hope you will benefit from my blog.