Last Updated on September 19, 2023 by River Tree Farms
Are you tired of hard water scum and chemicals that leave your dishes spotty? Get rid of the cloudy deposits with our best dishwasher for hard water!
Hand washing utensils can never be anyone's favorite chore. The backbreaking exercise is unsafe and leaves some traces of dirt untouched. You do not forget the germs that can leave your loved ones with stomach bugs.
With a suitable dishwasher, you have no reason to fret. And if you live in hard water areas like Arizona and Utah, you must be picky. A unique dishwasher best suited to rip off hard water chemicals, scum, and residues will come in handy.
Comparison Table
| Dishwasher Model | Capacity | Material | Noise | Dimensions (HxWxD) | Water Usage (Gallons) |
| --- | --- | --- | --- | --- | --- |
| SD-9263W | 8 Place Settings | Stainless Steel, Glass | 52 dB | 18″D x 24″W x 36″H | 2.6 – 5 gallons |
| EdgeStar DWP62SV | 6 Place Settings | Stainless Steel | 52.3 dB | 19.63″D x 21.63″W x 17.31″H | 2.85 gallons |
| Danby DDW631SDB | 6 Place Settings | Stainless Steel | 54 dB | 19.69″D x 21.65″W x 17.24″H | 3.1 gallons |
| Novete | 4 Place Settings | Plastic | 50 dB | 16.8″D x 16.9″W x 18.1″H | 1.3 gallons |
| Summit DW2435SSADA | 12 Place Settings | Stainless Steel | 49 dB | 22.38″D x 23.5″W x 32″H | 3.1 gallons |
Our recommended Dishwasher For Hard Water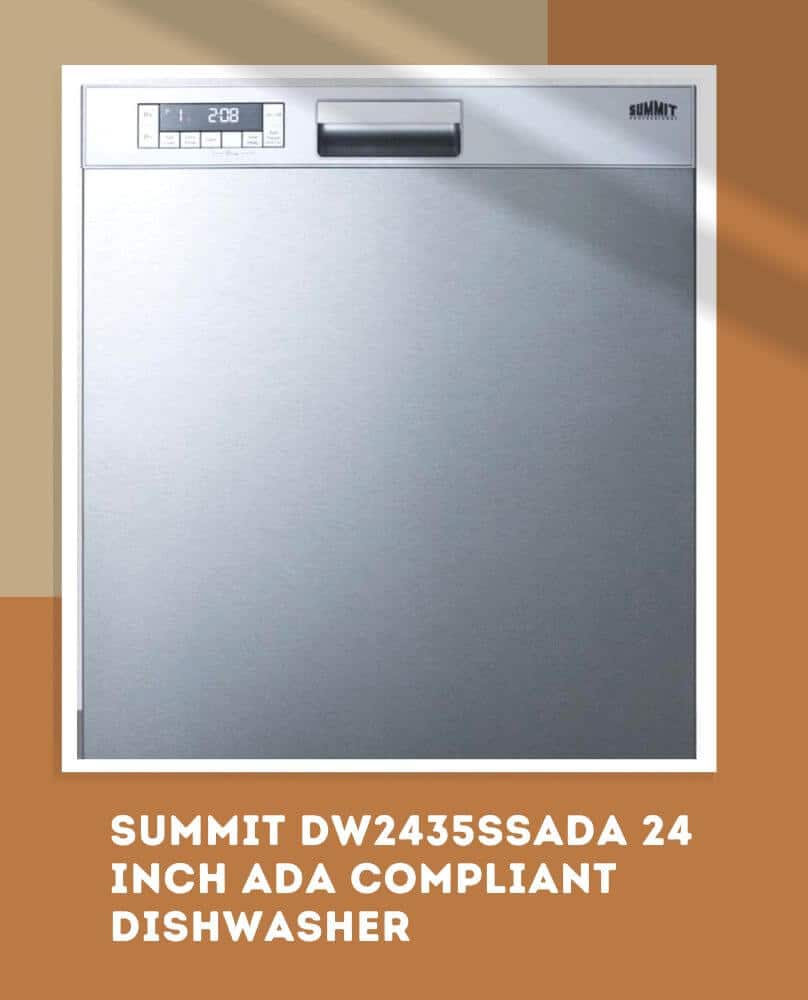 After carefully analyzing our five dishwashers, we again came up with Summit DW2435SSADA 24-inch Dishwasher is our top recommendation. It is an automatic dishwasher with superior features such as;
12-place settings
Two spray arms
Digital controls
ADA compliance
What Type Of Dishwasher Is Best For Hard Water?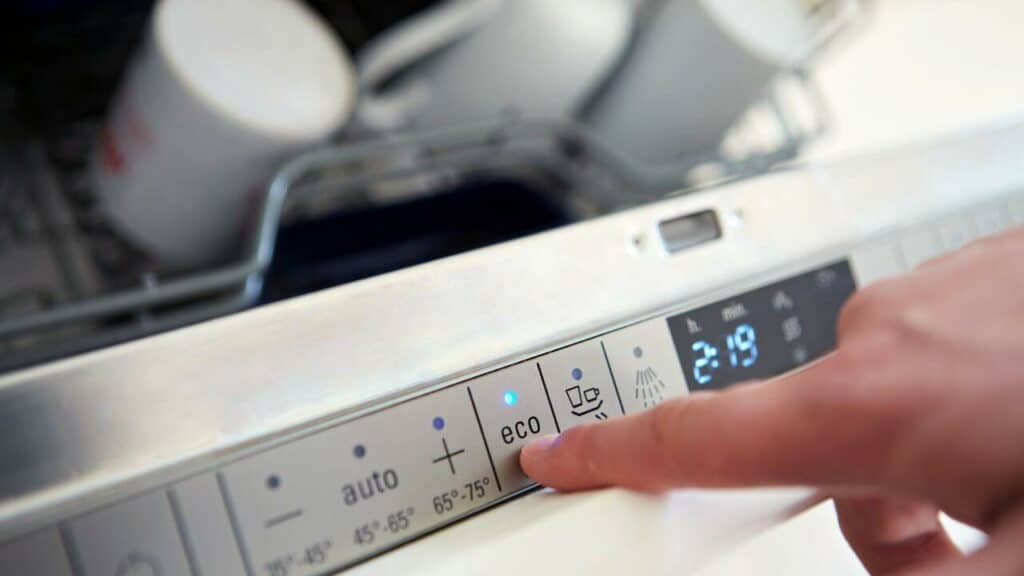 We admit that there are hundreds of dishwasher brands on the market. But not all can match your needs to get a good dishwasher for hard water.
You will be considering unique features such as the ability to clean dishes with well water. There are three qualities that you will weigh before buying a dishwasher for hard water;
1. Advanced Filtration System
A dishwasher with a strainer system is excellent. It removes particles and compounds for hard water use. Your priority is to leave no spots and film on your dishes. Get a machine with an ultrafilter system to get rid of water contaminants.
2. Stainless-steel Drum
The ideal material for a dishwasher drum/tub is stainless steel. Some other materials will resist high water temperatures and allow slow condensation. Stainless steel dries faster and is an exemplary heat resistor. The qualities ease the more rapid dissolving of hard water minerals.
3. Rinse Aid Function
A perfect dishwasher should rinse your utensils off the soap and hard water deposits. The Rinse Aid Function is an added benefit in dishwashers. It is a technology for stripping off chemicals. It ensures your tableware is spotless and crystal clear.
Now you know the ideal dishwasher for hard water!
Benefits Of Hard Water Dishwashers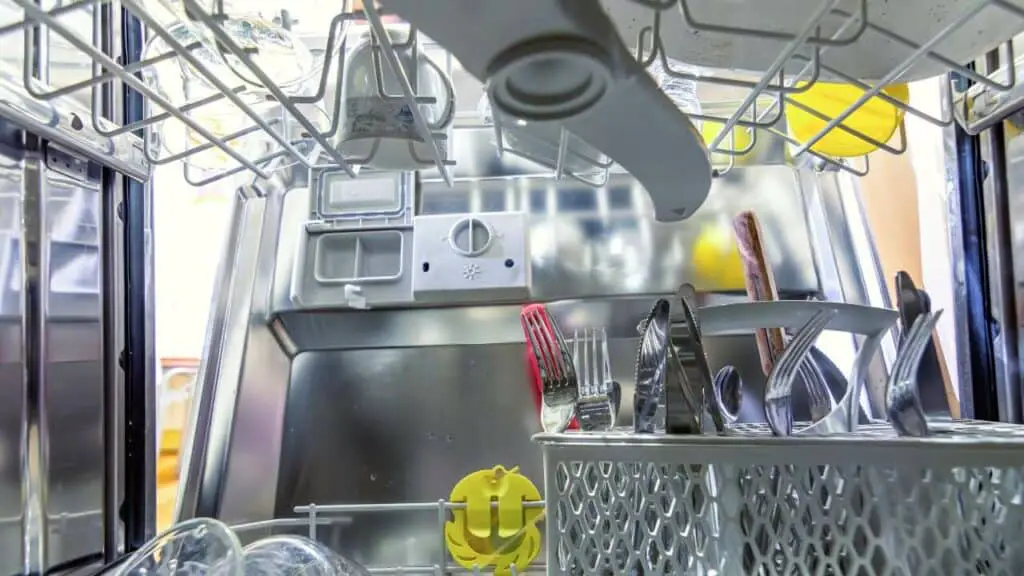 Hard water is detrimental to human health. And to all household appliances, including your dishwasher. The residues, salts, and scum buildup create an extra layer on the tub. That dwindles its performance.
Also, your utensils will likely come out with a cloudy layer. You will witness your clear glasses and bowls turn opaque. It will be a matter of that you will be struggling to descale your unique dishes. Luckily, hard water dishwashers have helped countless households to overcome these woes. In a nutshell, here is what you will reap upon purchasing a hard water dishwasher;
1. Longer Lifespan
Studies reveal that hard water damages dishwashers. It shortens its lifespan from 10 to seven years. That's an immense loss bearing in mind the cost of the unit. Beware that some models cost up to $3500 or more! A regular dishwasher lasts a few years in places with no soft water.
Consider;
Advanced filtration technology.
Rinse action technology.
Durable stainless-steel interior.
If you are lucky to get the above qualities in your appliance, you will get a long-lasting washer.
2. Saves You Money
Indeed, dishwashers do break down due to hard water use. Replacing the washer is not a cheap affair. It is also expensive to maintain a regular dishwasher. Professional descaling and heating coil replacement are costly.
A Hard water dishwasher remains unaffected by chemicals and deposits. And as we mentioned earlier, it can live in your kitchen for ten years or more. So, if you can afford it, go for a hard water dishwasher and save your dollars.
3. Clean Dishes
Have you ever dined on spotty and cloudy dishes? Of course, it didn't go well as you kept figuring out that the dinner plates and cutlery weren't clean. The disgusting opaque, and spotty appearance signifies that the faucet water is hard. And if it is happening in your home, you need to change the dishwasher.
Buy a unique dishwasher to get one that strips your utensils from dirt. The ideal machine should not leave scum, residues, and opaque layers on your dishes.
A unique dishwasher should clean, sterilize, and dry your utensils. That's a must-have quality if you live in hard water regions. So, a hard water dishwasher cleans dishes with an extra touch.
4. High Performance
Most Dishwashers for hard water have a wide variety of washing cycles. That's an excellent indicator of performance. Also, the machine has embedded technology. It doesn't need boiling water to dissolve minerals.
Your delicate dishware is safer in the tub as the cleaning process is gentle. Also, you do not have to put up with residues on your dishes. The water settings are enough. And come with a rinse aid that ensures your fragile dishware is dry and spotless.
5. Extra Features
Dishwashers for hard water have more features than regular ones. The most common high-tech functionalities include CrystalDry. The feature cleans dishware up to 60 percent dryer. Another feature is PureDry technology, which can clean your utensils up to 162 F degrees.
Other modern functionalities include Express wash, Sanitize, Power wash, and more.
Why Trust Us And Our Recommendations?
A modern and presentable dishwasher is a must-have quality before any buy. But there is more to what a beginner can see! We base our recommendations on scrutinizing the many dishwashers in the market. Our target was to come up with the best dishwashers for hard water. The sample comprised up to 25 top models. Top considerations included;
Cleaning ability
Material
Rinsing ability
Performance
Energy rating
Durability
Extra features
We are confident that the list of our dishwashers will solve your cleaning problems.
5 Best Dishwashers For Hard Water That Actually Work
Using well water or hard water is a risk for your appliances. You need an excellent brand to endure the chemicals present in the water. That's the purpose of this list. We will give you the most ideal and long-lasting dishwashers.
Stay here!
#1) SD-9263W: 18 Inch Energy Star Portable Dishwasher
Key Features
White
Rinse aid function
Delay function
Error Alarm
Automatic detergent dispenser
Stainless steel tub
Energy consumption: 237kwh/year
Water consumption: 5-6 gallons per cycle
Product Description
Get this stylish and portable 18″ inch dishwasher from SPT. The energy star dishwasher adds beauty to your kitchen. Also, it lessens your cleanup chores. It is an upgraded version of the regular dishwasher, thus perfect if you live in a hard water zone.
With a stainless-steel tub, you have an assurance of high heat resistance. Also, the material assures quick condensation. The interior dries faster and facilitates hard water minerals' speedier disintegration. Also, the stainless-steel interior is non-rusty.
This dishwasher has a spacious cavity. It comes with eight standard settings and easy controls. So, you can customize the settings depending on your needs. The unit can accommodate large pots and plates with an adjustable upper rack.
The most significant features of this dishwasher are the six wash programs;
Heavy
Normal
Eco
Glass
90 Minutes
Rapid
The Rinse Aid function is handy for giving your dishware a perfect rinse. A unique accompaniment to this feature is the rinse agent dispenser. It strips off the utensils of all harmful soap chemicals and salt deposits.
The SPT dishwasher has a time delay feature to let you operate the machine at your desired starting time. You can program the duration between 1 hour and 24 hours.
If there is an error on your device, you will get fault codes to allow you to reset it. Read more about your dishwasher error codes in the user manual. Also, this machine's installation is a breeze. The faucet adapter comes with an uncomplicated plumbing connection.
#2) EdgeStar DWP62SV Portable Countertop Dishwasher
Key Features
Silver
Energy star rated
LED display
Stainless steel
Seven wash cycles
Six place settings
Countertop design
Product Description
Edgestar DWP62SV dishwasher is second on our list. This washer is compact and allows you to use your countertop space. So, the unit is ideal for limited spaces like apartments, cabins, and dorms. Its size can fit under standard cabinets without expensive overhauls.
There are over half a dozen wash cycles on this dishwasher. You can pick;
Rinse
Speed
Baby care
Glass
Light
Normal
Heavy
Every feature operates from the digital control panel. Use the child lock button to shut off unauthorized people from your washer. You can defer the washing using the delay feature to operate the machine when you want.
With a six-place setting, you can stack as many dishes as you need. Thanks to the dishwasher's extensive capacity.
You won't have to worry about durability! The stainless-steel interior material is non-rusting and is a suitable heat resistor. Also, it allows easy condensation and quick drying. The procedures ease the breakdown of hard water minerals.
This powerful dishwasher guarantees low noise levels. A 52dB sound output is silent enough to distract your infants and neighbors. There is no disturbance while engaging in other tasks.
Take note of the spray arm feature. It spins to spread water in every tub area. So, you won't need a pre-rinse as the powerful action already strips your dishware grease and soap.
The machine has an energy star rating to safeguard you from hefty bills. Also, the water consumption is low, and the dishwasher uses 2.85 gallons per regular wash.
#3) Danby DDW631SDB Countertop Dishwasher
Key Features
Six place settings
Rinse Aid
Energy Star
Eight wash cycles
Silverware Basket
Stainless steel interior
Countertop design
LED Display
Product Description
Fix your dirty dishes with the Danby DDW631SDB countertop dishwasher. The machine is ideal for RVs, condos, and other small living spaces.
With the energy star rating, you have no fear of increasing your power bill. The water use is also minimal, as the unit uses 11.7 L or 3.1 gallons of water in a regular cycle setting.
You have eight wash cycles options whose menu includes;
Mini Party
Rinse
Speed
Glass
ECO
Baby Care
Normal
Heavy
Take this machine home and enjoy the quick and easy installation. The hardware is compatible with standard faucets. Also, you do not need to buy extra fittings. Maintenance and cleaning are easy as it is a stainless-steel interior.
For your convenience, you have an auto detergent dispenser. And also, a rinse agent dispenser, so you don't have to do it. This Danby model has quit operation. At 52dB, you can read, soothe your baby to sleep, or watch a program without many distractions. The delay function allows you to set the machine to clean your dishes at your desired time. You can delay the start function for 2,4,6, or 8 hours.
This model's spray arm and filter are all upgraded to give your dishes a cleaner touch. Water sprays from every corner. So, ripping off the dirt and grease from your utensils hence is no need for a pre-rinse.
All the above features are operational from an LED control panel, whose GIU is super-friendly.
#4) Novete Countertop Compact Dishwasher
Key Features
Dry mode
White
4place setting
Plastic material
50dB noise level
Countertop design
Speed mode
5 L water consumption per normal cycle
Product Description
Solve your dishwashing dilemmas with the Novete compact dishwasher. Installation for this stylish countertop dishwasher installation is easy. It supports two water supply modes. That includes water tank mode and faucet mode. All you have to do is connect the inlet pipe to the faucet and the appliance. The machine allows instant use when it fills with a built-in water tank (5 L).
The machine has an automatic water level indicator for alerts when the tank is full. For a regular cycle, the device will have 1.3 gallons of water.
This dishwasher offers you up to five wash cycles. The 167°F provides an effortless washing of greasy dishware and baby products. So, it is also ideal for hard water and rinsing utensils. It gives your glassware a crystal-clear finish.
Buy a Novete dishwasher and get a 3-IN-1 functionality. There is the Dry mode for drying and storing the utensils for up to 72 hours and a 60 minutes cycle for hot air drying.
You also get a storage rack and cutlery basket for easy cleaning forks, spoons, and knives. Also, two spray arms (lower and upper) clean off grease and other chemicals from the dishes. So, no residues and cloudy films on your tableware.
The Novete dishwashers are super-fast. In 29 minutes, your dishes are clean and dry. That's possible with the Speed mode setting. Sometimes, you desire a deep cleaning effect for soiled tableware. Use 3-4 cycles while alternating hot and cold-water settings.
#5) Summit DW2435SSADA 24 Inch ADA Compliant Dishwasher
Key Features
12 place settings
ADA Compliant
double rack
Energy star
Two spray arms
Five settings
Digital controls
Child lock
Indicator lights
Pot and pan setting
Front control panel
Product Description
Ease your dishwashing with this energy star certified dishwasher. This machine by Summit utilizes less energy. So, it saves you from excessive electric bills. It is a water saver and meets the national standards on consumption.
The 32″ high dishwasher fits under your lower cabinetry and so a space saver. Also, you will love the intuitive digital control interface. It comes with easy-to-operate touch buttons and a LED display. Also, the machine comes with a front control panel. It contains a program key print for your convenience.
This unit is an advanced dishwasher. With more than 12 standard place settings, it supersedes many brands. The large capacity fits standard plates, pots, and pans. Also, the machine has two slide-out nylon-coated wire shelves. This glide allows tearless loading and unloading.
We won't brush away the adjustable and smart folding shelf. That's a plus for storage purposes. You can use the top rack with side pieces for holding wine glasses or stack smaller cups.
The interior and the door are stainless steel, a superior and non-rusty material. That makes it last for decades.
With the attractive exterior stainless-steel finish, you have a sleek design. So you can match all your kitchen fittings. The noise levels are minimal, thanks to Summit DW2435SSADA 24 ultra-quiet performance. The technology includes an advanced sound-absorbing system. So you can enjoy peace and quietness in your home.
Considerations When Purchasing The Best Dishwasher For Hard Water
Hunting for a dishwasher brand for hard water isn't easy. The countless models from dozens of manufacturers make it more painful. Each model on the shelf promises performance and durability. If you aren't careful, you can get duped into making the wrong choice. But you don't have to break your nerves! Read our helpful guide to ensure you pick the ideal dishwasher that suits your needs.
1. Cycles
Dishwasher performance varies in cycles. Generally, there are the basic ones. These have limited operations. Those with 14 to 16 cycles have more processes and are better. You are battling with loads of hard water deposits and chemicals to clear.
2. Cleaning Technology
You agree with me that dishwashing with hard water is strenuous. Stacking your utensils and waiting for the cleaning process is not enough. The outcome may be undesirable. That is if you do not have a unique machine for hard water use. There are three cleaning technologies you will be eying when purchasing the machine;
Advanced Filtration System
The technology is crucial for straining all hard water particles and contaminants.
The material ensures high heat resistance and slow condensation. That facilitates the breaking down of hard water minerals.
The function facilitates perfect rinsing that ensures crystal-clean dishware.
3. Capacity
Your household size will determine the size of the dishwasher you buy. If you are single or two in your home, a small to medium-capacity dishwasher will serve you right.
4. Energy Rating
Consumer bills keep on rising. That includes energy and water. Buying an ineffective dishwasher makes your accounts worse. Get an energy-rated dishwasher to keep your bills minimal.
5. Water Consumption
Water consumption should also be a top consideration when buying a dishwashing machine. Get one that utilizes water by using minimal gallons per cycle. But that shouldn't compromise on cleaning and rinsing capacity of your device.
6. Extra Features
Extra features like indicators and LED displays are essential. Also, consider spraying arms, intelligent features, and child lock features, among others. These add value to your machine by boosting its performance.
7. Cost
Cost is a significant consideration. You are unlikely to buy beyond your limit. But it is prudent to take home a worthy piece of equipment. Your best dishwasher for well water should fulfill your desire. At the same time, it should fit within your pocket.
How Can I Make My Dishwasher Work Better With Hard Water?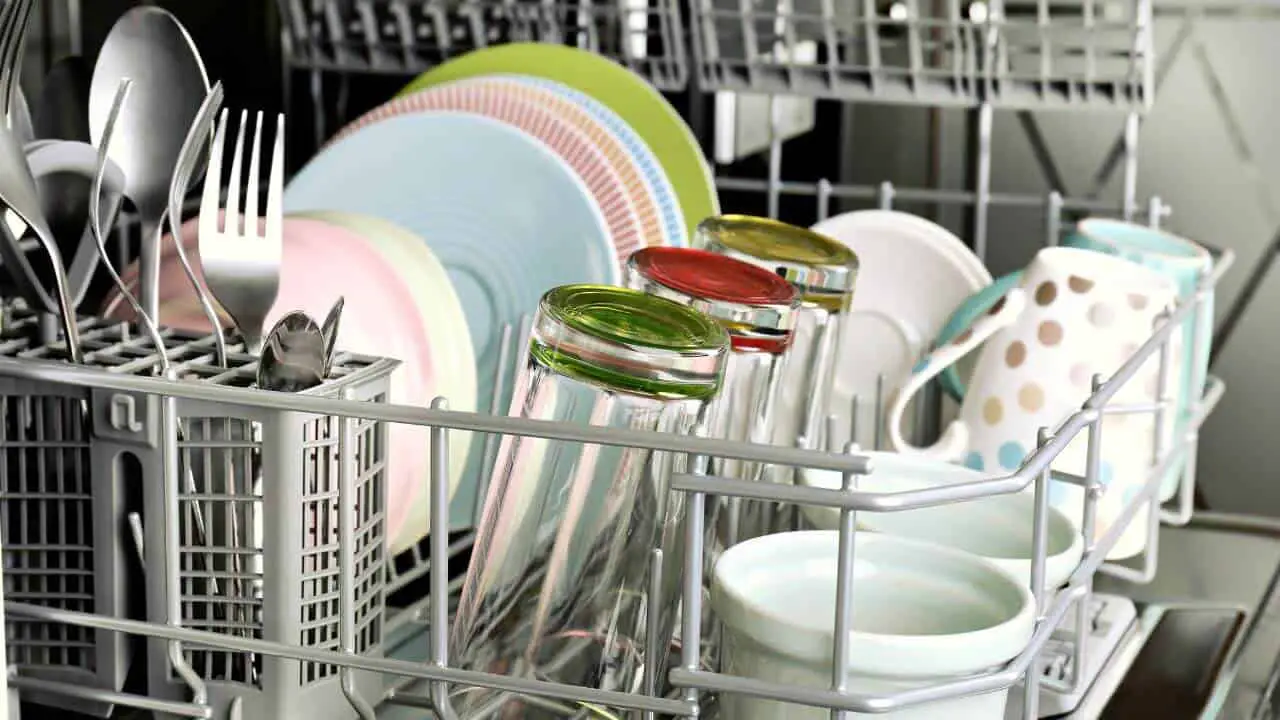 Buying the ideal dishwasher for cleaning with hard water is crucial. Hard water diminishes the heating appliance by crusting it. The chalky minerals corrode the interiors, especially those that are not rustproof. Once you get your perfect washer for hard water, you still need to have a duty to perform. Make the washer function better and last longer. Here are several ways to help your dishwasher performance with hard water;
Use A Descaler
Running your dishwasher with vinegar is an excellent practice. It deep cleans the interior and boosts performance. Vinegar is a standard household solution that clears hard water stains. It peels off calcium deposits from the tub walls and the racks. Pour vinegar into a cup and insert it on the top shelf. Run a regular cycle to clean your dishwasher interiors.
Fit A Water Softener In Your Home
Our recommendation to households with hard water challenges is a softener. Fit your home with a water softener to safeguard your appliances. Your dishwasher will no longer crust or corrode. It is also healthy for consumption as it has less fluoride.
Use Detergents With Softeners
When selecting dishwasher detergent, consider those with high phosphate levels. Phosphate is a hard water softener. It also improves dishwasher performance and gives you sparkling results.
Add Rinse Aids
Rinse aids assist your dishwasher in cleansing limescale deposits on your tableware. The cleansers remove chemical residues from your dishwasher as you rinse your utensils. That leaves the tub clean and free from chemicals that cause crusting.
Use Suitable Detergent And Levels
Wrong may cause your appliance to underperform. Excess detergent in your dishwasher creates extra foam/suds. The extra suds dwindle your appliance's performance and reduce its rinsing capacity. You will end up running many rinsing cycles, which is uneconomical.
How Long Does A Dishwasher Last With Hard Water?
Laboratories experiments have revealed that hard water has dense concentrations of essential minerals. The significant components are magnesium and calcium. Though the elements are necessary for the human body, fluoride is more harmful. Also, the impact on appliances is devastating.
Your dishwasher's lifespan gets affected by 30-50%. Manufacturers give your dishwasher a lifespan of 10 years. That is while operating it with soft water. The same appliance will live seven years if your household uses hard water.
Is Hard Water Bad For Your Dishwasher?
Hard water is harmful to your dishwasher. And other appliances too. The mineral deposits cause crusting on the element and interior layer. That results in corrosion. The effect on your dishwasher is a reduction in lifespan. There are other costly maintenance processes. You have limited choices but to use what your county/state provides. But you can lessen the salts that affect your dishwasher. Use recommended softeners.
Use hard water softeners.
Descale your dishwasher with vinegar.
Use the proper detergents.
Add rinse aids when running the dishwasher.
Buy a dishwasher with advanced technology for hard water cleaning.
Important Question & Answer
How Can I Get Rid Of Hard Water Deposits From My Dishwasher?
Hard water mineral deposits weaken your dishwasher's performance. So, you need to clean up the residues to descale the chemicals. Run a regular cycle with a cup of vinegar in the dishwasher. The deposits will peel off and run down the drain.
Can Hard Water Damage My Dishwasher?
Hard water damages and lowers the performance of many cleaning appliances. That includes your dishwasher. Install a hard water softener in your home. You will have safeguarded your dishwasher from harmful chemicals and residues.
What Is The Best Dishwasher Detergent For Hard Water?
When you shop for a dishwasher detergent, you will find quite a variety. Pick a detergent with phosphate composition. Phosphate breaks down hard water composites and removes harmful deposits and chemicals.
Conclusion
Our best dishwasher for hard water clears your fears about using well water. The secret is getting a machine with advanced features like;
Rinse aid
Filtration system
Stainless steel interiors
Many cycle settings
Also, our guide has tips for taking care of your dishwasher when using hard water. Ensure that you cleanse your appliance. Use vinegar to descale the tub interiors. If you can afford it, Install a hard water softener in your home. That's a guarantee for safe drinking and cleaning water. Be sure to choose a suitable detergent for dishwashing. Your appliance will last for years in your home. Cheers!