Last Updated on September 19, 2023 by River Tree Farms
Many dishwasher models surpass the $1000 price tag. That's more than your budget, yet your checklist includes quality and performance. But crawling through dozens of stores online won't get you what you want. I recently searched e-commerce stores for the best dishwasher under 1000.
So you don't have to wait until Black Friday or Thanksgiving sales to buy a washer. With less than $1000, you can get an affordable dishwasher. You will still get many wash cycles and unique features.
I will also tell you how to select the ideal machines for sorting your dirty dishes. If there is no time to go through the list, we still have the top recommendation below. So, don't go!
Comparison Table
| Model | Brand | Type |
| --- | --- | --- |
| EdgeStar BIDW1802SS 18 Inch Built-In Dishwasher | EdgeStar | Built-In |
| FRIGIDAIRE FFBD1831US Stainless Steel Dishwasher | Frigidaire | Built-In |
| Danby DDW631SDB Countertop Dishwasher | Danby | Countertop |
| SD-9263SS: 18″ Energy Star Portable Stainless Steel Dishwasher | Sunpentown | Portable |
| Bosch SHEM63W55N 24″ 300 Series Built-In Full Console Dishwasher | Bosch | Built-In |
Our Top Product recommendation
Bosch SHEM63W55N 24″ 300 Series Dishwasher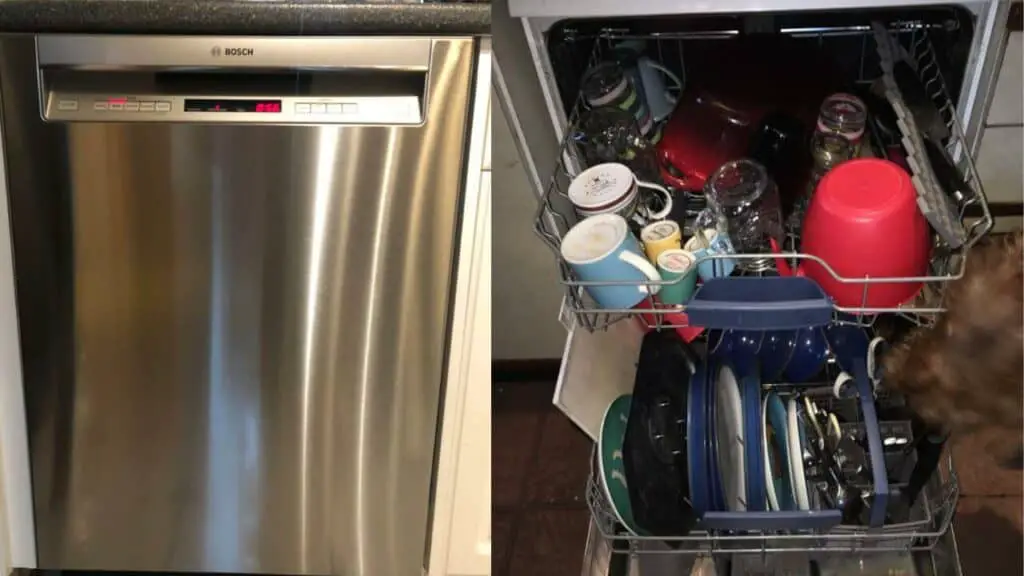 The dishwasher offers durability and reliability. Also, it has tons of superior features. You get 16-place settings, stainless steel material, and full console control. The five washing cycles and many adjustable racks make this washer a must-have. Bosch is Energy Star-rated and comes with a 44dB noise level.
The 5 Best Dishwashers Under $1000 (Budget-Friendly Dishwashers)
While shopping for a dishwasher that is under $1000, you will get many. But not all will please your desires. The essential appliance will stand in your kitchen for up to a decade. So, you must select and buy with wisdom. Have a look at these five dishwashers. We have hand-picked superior brands that are durable and offer many features.
#1) EdgeStar BIDW1802SS 18 Inch Built-In Dishwasher
Top Features
Eight places setting 
Sanitary rinse
Six cycles 
Three options
Two racks
Two spray arms
52 dB noise level
120V voltage
Product Description
EdgeStar BIDW1802SS 18 Inch Built-In dishwasher is the first on our list. The washer is compact yet able to accommodate eight place settings. The place settings allow many dishes in, so you won't have to clean in batches. Besides the settings, you get a cup tray and a silverware basket for silver utensils. Maximize all the usable space in the washer.
The machine features a control panel with a digital push knob. Its LED display makes it easy to select cycles and wash options. You can switch it on/off and even use the Delay option if you are not ready to clean your dishes at the time. The feature allows up to 24 hours of delay. Also, the control panel has a lock feature to prevent accidents while in operation.
Buy this washer and get a rinse aid compartment. The feature helps remove all those spots and film build-up. Though you buy the rinse aid bought as an addition, it is a worthy feature. It facilitates fast drying.
This Edge star gadget has six wash cycles. Also, you get three options for selecting Sanitize, Hi-Temp, or Heated Dry. The wash cycles include;
Rinse
Rapid
Glass
ECO
Normal
Heavy
Customize the above cycles depending on your dishware. For example, select Glass if you are cleaning your wine glasses and other wares in the same category.
The machine detects water leaks with its leakage sensor. When there is a leakage, it will close the flow. Also, the underneath filter does not block water and promotes better drainage.  You won't need a dozen tools to pull open your dishwasher.
You will love the serenity that comes with this Edgestar machine. Its noise level is 52d. So you can perform other tasks without a noisy appliance humming in your home.
Its width is 17.75″, so compact enough to fit in the tiniest kitchen space.   Other crucial dimensions to consider when buying this washer include H 32.5″ x W 17.6″ x D 22.4″. Its weight is 52.9 pounds.
#2) FRIGIDAIRE FFBD1831US Stainless Steel Dishwasher
Key Features
Two spray arms
Eight place settings
52dB noise level
Energy star certified
Certified sanitize cycle
Heated drying system
Cycle status indicators
Product Description
Though you are looking for a dishwasher under 1000, that shouldn't sacrifice quality. Frigidaire will be the next on the list. It is a double spray arm dishwasher that gives a thorough cleaning cycle to your dishes. The system is powerful and doesn't have any spots on tableware. The top and bottom spray arm systems give a dishwasher ability to clean dishes in a single cycle.
Also, the washer has a sanitizing cycle. The feature meets the National Sanitation Foundation certification. The sanitizing cycle eradicates 99% of bacteria, viruses, and other harmful microorganisms. When the cycle is complete, your dishes are ready for use. So there is no need for further sanitizing.
This energy star dishwasher has eight place settings per cycle. The settings allow you to clean all your dishes in a single batch. Also, the machine has a setting that saves water and energy.
You can also use the heated drying system option to dry all your dishes at a go. The cleaning cycles are six. You can select rinse, heavy wash, or normal, among other options.
FRIGIDAIRE FFBD1831US is the quietest dishwasher under 1000. The 52dB noise level is too low to disturb anyone in the kitchen. Its serenity allows you to perform other functions and even cuddle your baby to sleep.
There is a time-saving function with a delayed start of 24 hours. This feature allows you to set your washer to start later. You can run the machine on your schedule and at your convenience time.
With Frigidaire, you have a dishwasher that meets local and international appliance standards. Its filter contains a status indicator. Also, the filter is self-cleaning so that it won't experience clogging. If the filter gets worn out, you can remove it and replace it for better efficiency.
#3) Danby DDW631SDB Countertop Dishwasher
Key Features
Delay function
Eight wash cycles
6-place settings
2.1 gallons of water consumption
Silverware basket
LED display
54dB noise level
Stainless steel tub
Product Description
Danby DDW631SDB is a budget dishwasher that fits and saves on your countertop space. The machine is compact and small for use in tiny spaces with a dimension of 19.69″ x 21.65″ x 17.24″. You can let Danby sit on your countertop or in your kitchen cabinet.
The dishwasher is the perfect companion for your RV travels. Besides the great aesthetics, its plumbing work is super easy. The washer has uncomplicated connecting features that match RV fixtures and standard kitchens.
With a 6-place setting capacity, you have space for your plates, cutlery, cups, pans, and pots. The capacity accommodates more dishware, saving time, water, and energy. Note that the washer is energy star compliant. Also, it comes with low water consumption of 3.1 gallons (11.7l) of water (11.7L) per cycle.
Washing is easy with eight wash cycles! That includes a delay function. The option allows you to defer the wash for up to 8 hours. Set the delay function at 2, 4, 6, and 8 hours intervals. Depending on your dishes, you can pick ECO, Rapid, Soak, and Rinse, among other cycles.
Selection and monitoring are easy on the washer's LED display. Use the auto dispenser feature to add detergent. That applies to the rinse agent too. Every other function of the dishwasher is electronic. That makes the machine effortless to operate.
Experience quiet wash cycles that cannot disrupt you or your neighbors. The noise level for this washer is 52 dB. The humming is lower than your vacuum cleaning equipment.
#4) SD-9263SS: 18″ Energy Star Portable Stainless Steel Dishwasher
Key Features
Energy star
18″
Portable
Rinse aid indicator
52dB noise level
Eight place settings
Six wash programs
Error Alarm
Stainless steel tub
Product Description
SD-9263SS is an energy-star portable machine that resolves all your dishwashing needs. It is 18″ and thus compact for RVs and other small spaces. Also, the machine doesn't need complex plumbing processes. It connects kitchen faucets and RV tap provisions without complex or permanent installations.
You will love its aesthetics. The exterior is beautiful and matches many kitchen designs. An 8-place setting is spacious enough to take care of a medium to large family washing needs. The cavity is spacious enough to fit tall glasses and large dinner plates. Adjust the upper rack to accommodate your larger dishes like plates and pots.
SD-9263SS dishwasher is easy to control. The design allows you to customize from 6 wash programs. You can select Rapid, 90 min, Glass, Eco, Normal and Heavy, depending on your needs. All the controls are easy. Plus, the machine has a rinse aid reminder to alert you when the utensils are ready for rinsing.
You can postpone the cleaning for up to 24 hours. The time delay feature will function at your desirable time. The error alarm will show codes on the LED display when there is a fault. The rinse aid indicator will remind you when the machine needs a refill.
You will also like the energy-saving features. Though the cycles are many, the energy consumption for this washer is low. All its features have an energy star rating to save you on power. Every cycle consumes 5 to 6 gallons of water.
The interior tub has a durable stainless steel interior that does not rust. Also, cleaning the exterior surface is easy. To remove spots, wipe them often with a wet tablecloth.
#5) Bosch SHEM63W55N 24″ 300 Series Built-In Full Console Dishwasher
Key Features
Stainless steel material
Full console controls
Five washing cycles
12 place setting
Many adjustable racks
Energy star
44dB noise level
Speed 60
Silverware shelf
Product Description
Sort your dirty dishes with this compact best Bosch dishwasher for under 1000. Bosch SHEM63W55N 24″ 300 Series is a full console washer. It has many superior qualities, and one of the features is the 16-place settings. The spacious cavity allows you to arrange many utensils at a go. Use the adjustable and versatile racks to stack more dishes to maximize space.
The SHEM63W55N 24″ 300 Series dimensions are 23.75″ x 23.56″ x 33.88″, compact enough to stand next to your kitchen sink. Its addition is stylish and compliments other appliances and fittings in the room.
You will love the front controls that allow convenient operations. You can access the wash cycles and other crucial functionalities without squinting. Though no LCD exists, the Bosch SHEM63W55N stands out in design and functionality.
The machine will run without groaning. You will hardly hear any groans, even when standing next to the appliance. At least, not like most machines that buzz and create a disturbance.
Installation is without trouble. Its adaptors match up with your kitchen waterline system. Most operations are automatic. For example, some sensors adjust according to the dirt levels. The sensors control the wash cycle length.
On average, a dishwasher's normal cycle will last for about two or more hours. For dishes that are not soiled, the Speed 60 cycle will wash them for 60 minutes.
Though this machine is cheap, it is reliable and durable. It's made of stainless steel and so does not rust or stain. Wiping the surface is enough to restore the appliance's spotless and shiny surface. Cleaning the filter is easy. Turn the large plastic knob anticlockwise(¼ turn). Lift the assembly up and then out. Wipe your filter, rinse, and replace it.
And if you are looking for an affordable dishwasher, you have this Bosch machine.  It is energy efficient, but how do you know? It has an Energy Star rating to assure you of low power consumption.
Choosing the best Budget dishwasher: What to consider?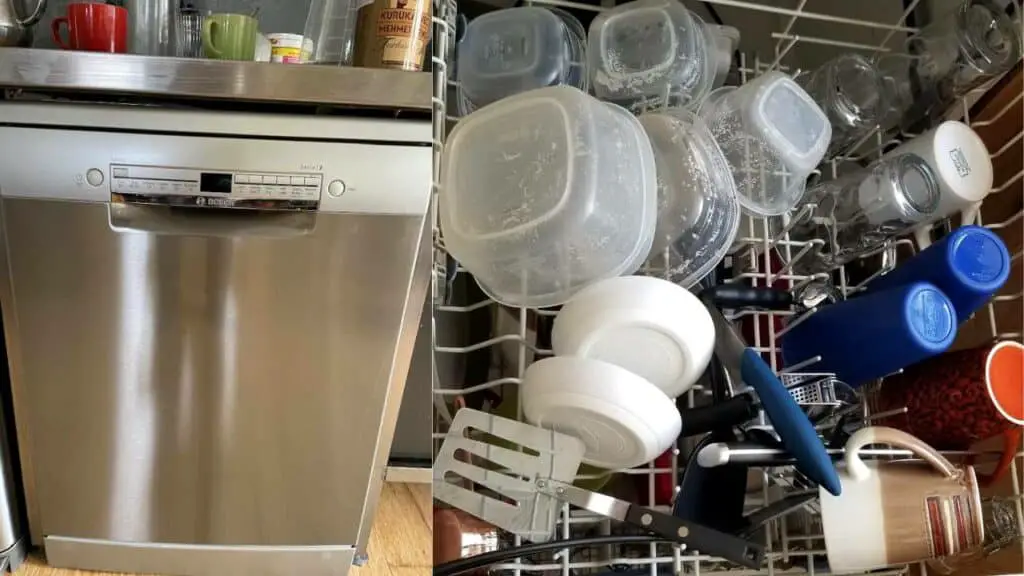 All dishwashers promise the best performance. They come with many wash cycles and other superior qualities. Some are affordable, while others are expensive. We have converged your search to five affordable dishwashers. You aren't going to take home the entire list. Here's how you will pick the best dishwasher that suits your need;
1. Affordability
You are already hunting for an affordable dishwasher. Your budget is under $1000. Going through a list of expensive machines over 1000 is not worthwhile. That's higher than your buying capability. While cheap is dear, an expensive dishwasher doesn't guarantee superior quality. Shop with wisdom to get superb features and performance.
Also, with your budget, you can still get a quality dishwasher with various features. Many models within this price range have top ratings for high performance. The machines come with quality tubs. They have quiet operations, extra racks, and more quality and reliable features.
2. Dishwasher Size
If your kitchen space is tiny, a jumbo dishwasher will be irrelevant. You won't have space to place it. Consider the standing space, whether it is on the countertop or floor. You do not want to undo your cabinets to accommodate your dishwasher. While still on size, consider your family size.
Suppose you live alone. Your ideal size should be a mini washer with 6-8 place settings. That size will accommodate your few dishes. Also, for larger family sizes, you will need a medium dishwasher with up to 16 -place settings. The spacious capacity accommodates plates, pans, pots, etc. So you will not need to clean in batches. A good dishwasher has a lower and upper rack for placing extra utensils.
3. Design
Who wants to end up with old-school dishwasher designs in their kitchen? To achieve style, it doesn't have to be an expensive dish. Many sleek designs match up with different kitchen fixtures. You can choose a washer that compliments your kitchen, from color to dimensions to shape.
Pick stainless steel, glossy black, white, or brushed metal for finishes. The latter is expensive, but you can get one within your budget. You might want to consider a stainless steel tub, as it doesn't rust and is easy to clean. The most important design aspect of a dishwasher is the controls. They should be accessible and easy to operate.
4. Features
The outward and inward finishes are great features when buying a dishwasher. Besides that, your ideal dishwasher should offer many features. $1000 isn't too low a budget, that is, if you don't want to go under $500. You should expect special functionalities on the dishwasher for such a price range. Some extra features to watch out for include noise level and cleaning abilities. With the budget, you can get a washer that does not groan and make everyone uncomfortable for hours. Have a look at the following features before buying a dishwasher;
Indicator lights
Racks
Cycle time indicators
Controls
Place settings
Wash cycles
Silverware basket, etc.
5. Energy And Water Consumption
We all want to keep bills minimal. You, too, can keep yours minimal. Buy household appliances with Energy Star ratings or energy-efficient features. Such machines have certifications for low energy consumption, hence lowering your bills. Also, find a dishwasher that uses a few gallons of water per cycle. Manufacturers state these features to alert you on usage.
6. Model
Not all models have an excellent reputation. Some brands might compromise on quality. They sell to unsuspecting dishwasher buyers like beginners. Beware of such brands and buy renowned brands available for consumer help.
You might want to check their terms of sale to get parts or product warranty. A model with an unclear warranty isn't worth your time and dollars. While considering the model, be keen on the reviews on the product. That way, you don't have to bite your fingers afterward.
Frequently Asked Questions
1. How Long Should A Dishwasher Last?
A dishwasher's lifespan is about ten years. But that doesn't guarantee that your machine won't develop issues quickly. Learn how to prolong your machine expectancy. Read its user manual and other articles online.
2. Is It Cheaper To Repair Or Replace A Dishwasher?
The amount of money you will spend on repairing your dishwasher depends on the size of the damage. A tech will analyze and quantify your damages and recommend the best route. It will be a repair or replacement option.
3. Can I Install A Dishwasher Myself?
It is not rocket science to install a dishwasher. All you need is the right adapters and a good waterline. If you are unsure how to do it, call a plumbing tech to install your washer.
4. How Long Does It Take To Install A Dishwasher?
It shouldn't take you hours to install your new dishwasher. You will need the right assembly. Follow the installation procedures in the manual.  On average, you can fix it in 30 minutes or longer and test your wash cycles immediately.
Conclusion
With this best dishwasher under 1000 reviews, you don't have to buy with a blind eye. You can pick your match to resolve your dishwashing pains. Our experts have dedicated a section for a buyer's guide. Before spending cash on a dishwasher, you will get the six features to consider.
Consider the Bosch SHEM63W55N 24″ 300 Series dishwasher in our top recommendation section.  The dishwasher has superior qualities and sells below $1000. Good luck!
References: