Last Updated on August 15, 2023 by River Tree Farms
Unless you've set the delay wash cycle on your dishwasher, this appliance should not start by itself. If you notice your GE dishwasher turning on by itself, it should hint that a problem requires fixing. Often, a dishwasher starts on its own due to a problem with the main control board.
This means that you need to focus more on the control board if you want to diagnose and fix the problem. However, self-starting can also result from other issues in the dishwasher, which means that you should rule out everything else before you check the control board.
If you've discovered that your GE dishwasher turns on by itself and are looking for possible solutions, this article contains crucial information to help you out. Read on.
Can A Dishwasher Turn on By Itself?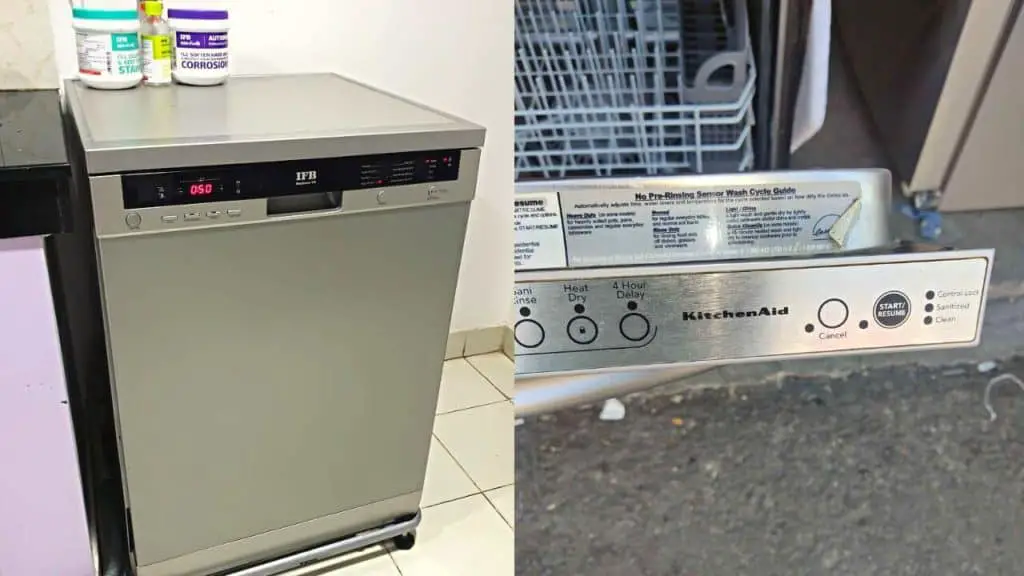 Absolutely. If you have used the same dishwasher for a long time, say four years or more, you may have encountered this problem at some point. Usually, the delay wash cycle setting allows your dishwasher to turn on automatically after the stipulated time.
For instance, if you instruct your dishwasher to activate the wash cycle after one hour, it will automatically start once the time elapses. If you haven't selected the delay function, it should worry you if your GE dishwasher turns on by itself.
Why Does My GE Dishwasher Keep Turning Itself On?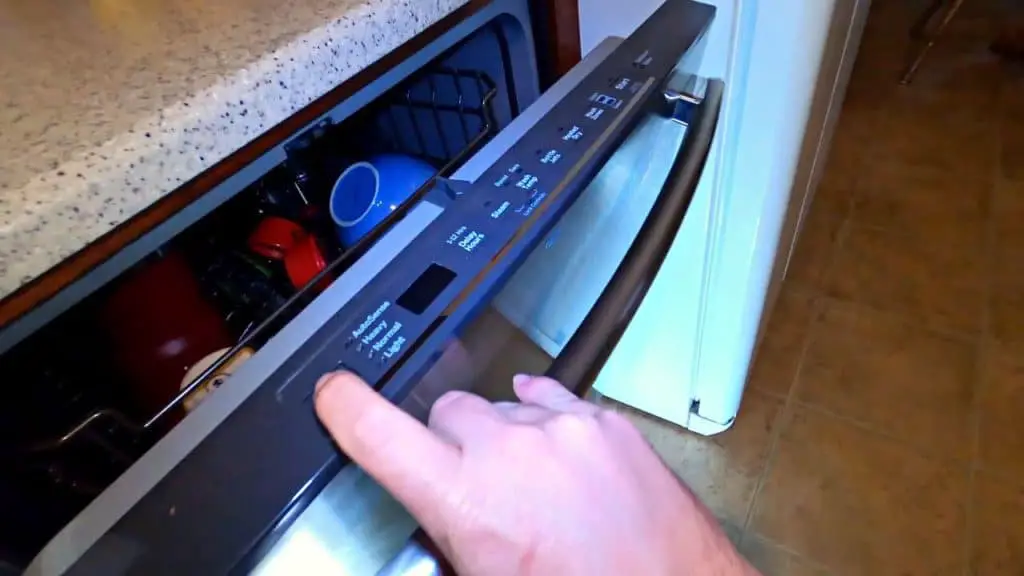 A GE dishwasher can turn itself on due to several reasons. As discussed above, delayed wash cycle settings can cause the appliance to start by itself. That's not a problem because you must change the settings to remove the delay. The dishwasher can also self-start in case:
Someone touched the dishwasher display or keypad by mistake.
There are some unresponsive or stuck buttons on the dishwasher keypad or display panel.
Previous wash settings on the main control board are still in effect.
There's a fault in the main control board.
Solutions Or Repair Methods to Fix A GE Dishwasher That Turns on By Itself
The first step towards fixing your dishwasher self-starting problem is identifying the cause of the automatic starting. Knowing what problem you're dealing with will help you figure out the solution faster.
Unless you're an expert in GE dishwasher matters, you may find it challenging to diagnose the issue. In such a case, there's no harm in contacting a qualified home inspection officer or a professional plumber.
Even so, you can still find the problem by yourself and solve it without seeking professional advice. The downside of going down this road is that you will need to be a little more careful, as you don't want to worsen the problem. To fix the problem, follow these steps: –
Confirm that no one has touched the dishwasher control buttons by mistake.
Ensure you haven't turned on the delay cycle function on your appliance.
Examine all the control buttons on the dishwasher keypad carefully. See if there are any buttons permanently pressed inwards or stuck. Give particular focus on the delay button.
Before you take the next step, confirm that each button on the control panel is working as intended.
If all buttons are in good condition and are working perfectly, reset the main control board. To achieve this, cut off the power supply to the dishwasher by disconnecting it from power and reconnecting it after about 15 minutes. Restart the dishwasher and observe how it works.
One of the steps above should fix your dishwasher problem. If the problem persists even after attempting these actions, it likely means that the main control board is faulty. You will need to replace the whole control board in such a case.
How to Diagnose the Control Board
If you discover a faulty control board, you must determine the exact fault to get the solution. Follow this procedure to find the problem: –
Disconnect the dishwasher from power.
Disconnect the power connector from the control board.
Check for any visible signs of faults, such as burnt components, melted relays, loose connections, worn-out components, and damaged wires.
Replace replaceable components.
If not, replace this control board with a new one.
Frequently Asked Questions
Is buying a new dishwasher better than fixing the problem?
Well, it depends on how much it costs to fix or replace the dishwasher. In most cases, it costs less to repair your dishwasher than to purchase a new one.
However, the difference may only be slight, so you should consider buying a new appliance. Buying a new dishwasher is particularly necessary if the faulty one is too old.
How can I prevent the dishwasher from turning on by itself in the future?
The surefire way to ensure the problem does not recur is to repair it. However, you can also prevent this by leaving the door slightly open after every wash cycle.
This will ensure that the dishwasher door doesn't latch and power won't flow into the appliance. Another way is to install an external ON/OFF switch on the dishwasher to ensure that power only flows to the appliance if you press this button.
Why is my dishwasher turning off in the middle of a cycle?
This can result from various things, including a faulty heating element, fan malfunction, or open door. Proper diagnosis will enable you to discover the cause and solve the problem.
Can a new dishwasher turn on by itself?
Yes. A new dishwasher can still have problems, such as stuck buttons. While it's not likely for such an appliance to have a faulty control board, don't rule out anything. Diagnose the problem and fix it.
Final Words
It is not unusual for a dishwasher to start by itself, mainly if you have selected the delay function. However, if a GE dishwasher turns on by itself without your awareness, you need to look into the problem, determine the cause, and solve it.
While most problems are easy to fix without unique expertise, some may require a more skilled person to solve them. For instance, for a faulty control board, you should consider hiring a professional plumber to inspect and replace it. Also, if the repair cost is too high, you can buy a new dishwasher instead.