Last Updated on May 19, 2023 by River Tree Farms
Pressure cookers and instant pots are some of your favorite countertop appliances. These essentials from American kitchens made many confused in recent years. They debated on which one cooks better or which one saves time. Many people ask, "What is the difference between a pressure cooker and an instant pot?"
The short answer is- A pressure cooker is an appliance that helps in the fast preparation of food. The instant pot works almost the same as the pressure cooker. But these are more advanced and act like multi-cookers. To know about more differences, continue reading!
Differences between a pressure cooker and an instant pot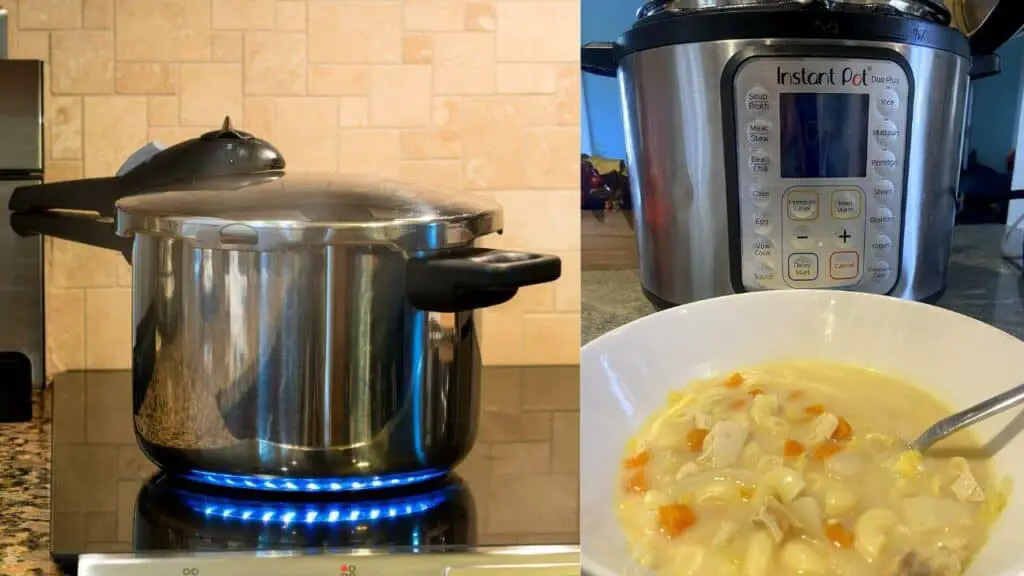 What is the difference between a standard pressure cooker and an instant pot? Some aspects of these kitchen appliances are almost the same. But there are differences too. The pressure cooker vs instant pot debate is everywhere as almost everyone wants to own one. But for the best decision for your family, you have to know the details. So,
What are Instant Pots & Pressure Cookers?
A traditional pressure cooker is a stovetop cooker. But while cooking, an instant pot uses electricity. Instant pots have their own heating elements.
Both the pressure cooker and the instant pot have tight-fitting lids. These confine steam until pressure is highly generated. The steam then greatly raises the boiling point of the water. So, the basic principles are same for the both.
But Instant Pots are electric pressure cookers that have more to offer. They act like multi-cookers. These differ from stovetop pressure cookers in many ways. For example, an Instant pot can be a rice cooker and cook rice. It can also be a slow cooker that cooks food in a slow cooker function.
The pressure cooker and the instant pots can be differentiated in terms of many aspects. Such as:
1. Type of food being cooked
Pressure cookers and Instant Pots are great for preparing healthy meals. You can cook vegetables, black beans, soups, meat, squash, stews, and lentils, among others. But foods like cookies, pies, sauces, and fried foods can't be prepared in a pressure cooker.
The instant pot has a lot of options to choose from. It can cook almost any type of food that you want to cook. You can cook foods like desserts, delicacies, baked potatoes, or even big chunks of meat.
2. Cooking process
Stovetop pressure cookers require water presence in the food items. Its lead has a tight seal. Upon heating, the water inside the cooker turns into hot steam. As the steam can't escape, internal temperature increases. This is how the food cooks in pressure cookers.
Instant Pots are electric pressure cookers. The process is similar with some exceptions. The Instant Pot has a heating element on the bottom that heats the food and generates steam. The Instant Pot also has a pressure release valve. It allows the user to safely release the pressure after cooking.
3. Cooking Features
The instant pots beat the regular pressure cooker as it comes with its features. These are rice cooking, steaming, slow cooking, sauteing, and warming food. Not to forget pressure cooking and yogurt making. It has temperature settings that allow pre-set temperatures. A pressure cooker is perfect for pressure cooking. But it does not have such features and options.
4. Safety
Modern pressure cookers and instant pots are made with extra safety mechanisms. So fear of explosion is less now. However, instant pots have additional safety features. Beyond those found on traditional pressure cookers. These include a lid-locking system. Also, an automatic pressure release valve, overpressure protection, temperature control, and safety lids.
But the level of maintenance will also determine the level of safety of those appliances. In this case, pressure cookers have the upper hand. These are often easier to clean as they don't have a lot of wiring. And lack of individual heating elements also makes cleaning easy.
5. Cooking time
The pressure cooker cooks food three times faster than the traditional way. But the Instant Pot cooks twice as fast. They have the same pressure cooking features. But additional heating elements give them the advantage.
But an Instant Pot also is a slow cooker. When the pressure gets higher, the cooking time becomes lesser. To slow cook, you can set your Instant Pot to cook for hours. It will adjust the pressure generation.
6. Convenience
Many think the instant pot is more convenient than the traditional pressure cooker. As electric cookers, the instant pots are programmable.
An instant pot is easy to use. It allows you to schedule how you want to cook. It is versatile, warms food, and has user-friendly options. You can use it for numerous recipes. You don't have to be around when the instant pot is cooking. All you have to do is schedule your cooking.
But the manual pressure release requires monitoring. And limited functions of pressure cookers make them less convenient.
Advantages an Instant Pot Has over the Pressure Cooker
As cooking appliances, we know electric models can be superior to traditional cookers. Even though Instant Pots sometimes get a bad reputation. Mainly of being intimidating to use, it offers various advantages over pressure cookers. Such as:
1. Easily usable
When using the instant pot, you don't have to worry about the pressure setting. Unlike a traditional pressure cooker, it does not need constant monitoring. With some practice, you can enjoy a fun cook time using it.
It has programmed buttons on the control panel. This makes cooking very easy. so you don't have to worry about the process.
2. Multi-tasker
Instant Pots are multi-cookers that replace many appliances saving countertop space. An instant pot cooks twice as fast as a pressure cooker.
The cooking options are also endless. This device can also slow cook, steam food, and pressure cook. It can act as a yogurt maker, a food warmer that keeps food warm.
3. Consistent
Unlike a basic pressure cooker, the instant pot is more advanced and automatic. It is easily programmable. You can control it at your convenience, depending on the type of food you want to cook.
The Instant Pot also has a built-in temperature sensor. It monitors the temperature inside the pot and adjusts the heating element accordingly. It helps to prevent overheating. It also ensures that the food is cooked at the appropriate temperature, which gives you consistent results.
4. Versatile & User friendly
With the instant pot, there is no need for lots of pans and extra cooking pots. The device can thaw and cook frozen meat in a very short while. In this case, you don't have to waste your time defrosting your meat and later cooking it.
Perhaps you could be in a hurry to go somewhere. So all you can do is add all your ingredients and set it to slow cook, and by the time you get back, your food will be ready.
it has many preset programs for common meals. And its manual program gives you the freedom to cook what you want as you like.
5. Comfortable
Unlike the pressure cooker releasing pressure, the instant pot traps pressure and heat. So the kitchen doesn't get heated while food is cooking.
This table can be a perfect way to compare Instant Pot and Traditional Pressure Cookers:
| | | |
| --- | --- | --- |
| Feature | Instant Pot | Traditional Pressure Cooker |
| Cooking method | Electric pressure cooking | Stovetop pressure cooking |
| Cooking time | Faster | Slower |
| Temperature control | More precise, adjustable temperature settings | Limited to no temperature control |
| Safety features | Multiple safety features: · lid lock, · automatic pressure release, · overheat protection | Limited safety features |
| Additional functions | slow cooker, rice cooker, and steamer in one device. | Pressure Cooking only |
| Temperature regulation | Electric heating element, temperature sensor. | Depends on the stove temperature |
| Ease of use | Pre-set cooking programs, automatic keep-warm function, and delay start timer. | Requires monitoring and attention |
| Cleaning | The non-stick inner pot and dishwasher-safe parts. But has wirings. | Can be dishwasher safe. |
Frequently Asked Questions (FAQ)
1. Can Instant Pot cook fast?
Instant Pots can cook 70% faster than other methods of cooking.
2. Is Instant Pot as same as a crock pot?
The instant pot has all the options of a crock pot but is much more than that. As a crock pot can only slow cook.
3. Can you cook instant pot recipes in a pressure cooker?
Pressure cooker lacks many features of an Instant Pot. So only some Instant Pot recipes can be made with a pressure cooker.
4. Among instant pot vs pressure cookers which one is better for Indian cooking?
Instant Pot is definitely better for Indian cooking as you can make every Indian dish with it.
5. What is the biggest drawback of an Instant Pot?
Instant pots are practically perfect. But these are usually very expensive than traditional pressure cookers.
Conclusion
The pressure cooker vs the instant pot dilemma can be solved individually. Both of them can be a great addition to your kitchen counter appliances. They cook good, tasty food and cook faster than the other methods.
Most people would still go for the instant pot for its extra features and so many cooking modes. All in all, you should go for what makes you happy and right for your family. Be it traditional stovetop pressure cookers or modern Instant Pots.