Last Updated on May 19, 2023 by River Tree Farms
Kalorik Maxx air fryer oven and Ninja Foodi both have pros and cons to consider. Before deciding which one to buy. Both of these appliances are excellent convection ovens for your kitchen. The difference mainly lies in air fryer cooking quantity features and maybe price.
Both of them are among the best air fryers in the market. And they come with many promises. But which one is right for your family? You have to think about key features, versatility, ease of cleaning, etc., to find out the answer.
In this article, I have discussed the Kalorik Maxx air fryer and Ninja Foodi air fryer. So, anyone interested can decide which one they should buy.
Kalorik Maxx Air Fryer Oven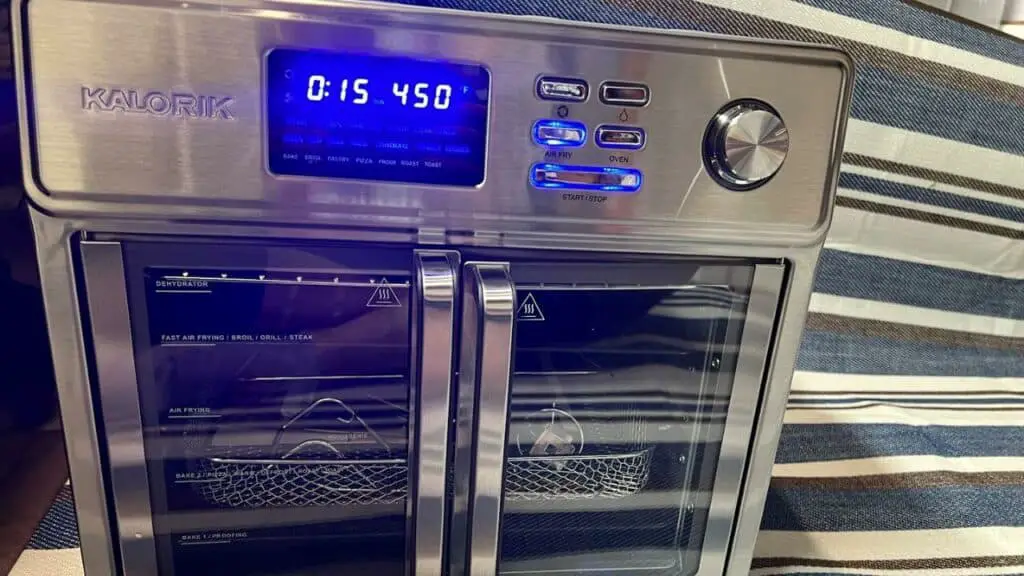 The Kalorik Maxx Air Fryer Oven has so many features. It combines features of countertop appliances into an air fryer. Equipped with the features of a toaster oven, it is ideal for any kitchen. It has a rotisserie basket and other valuable accessories. So, it will meet all your kitchen desires.
It features a stainless steel exterior, a tempered glass lid, and an external surface of 12.4×15.55 x13.54 inches. The interior cooking chamber is made of heavy-gauge steel. And it comes with premium stainless steel crisper baskets. The basket can hold up to four chicken drumsticks and chicken nuggets at once.
Features
Kalorik Maxx air fryer is a powerful appliance using 1700 watts of power. It uses the power to aggressively circulate hot air in the air fryer. The cooking process uses Turbo Maxx technology. It will allow your food to air fry fast and with little or even zero oils if you like it.
The air fryer has a digital model display with a touchscreen. Here you set your temperatures and time. The cooking functions are available on the control panel.
Kalorik Maxx has a generous cooking capacity of 26 quarts. It is one of the unique features of this air fryer that many air fryers do not have. However big your family is, the Kalorik Maxx air fryer will cook enough meals for even visitors. It will cook a whole 14-pound turkey or even a 12-inch frozen pizza.
This air fryer will do what ten other kitchen appliances can. It can slow cook, bake, roast, air fry, roast, broil, sear, rotisserie, braise, warm, and dehydrate and act as a pizza oven.
21 preset cooking functions
The preset functions make cooking easier with just one tap, without the hassle of temperature and time adjustments. The presets in the Kalorik Maxx air fryer are so many that they almost cover any dish you think to prepare for the day. Some of the presets functions include chicken wings, chicken breasts, and vegetables. It also offers french fries, onion rings, shrimp, steak, branches, and much more options.
Cooking in Kalorik digital Maxx air fryer oven is made more accessible. It is done by the fourteen deluxe accessories that come with the air fryer. These accessories give you flexibility in what you cook in the air fryer. The Kalorik Maxx accessories include an Air fry basket and a 2-in-1 tray to cook steak and for dehydrating. Also, a baking tray, an air rack, a cooking rack's handle, a rotisserie spit & forks, a rotisserie handle, and a bacon tray.
Kalorik Maxx air fryer oven has a modern double door. This is what makes it easier to place large amounts of food inside the air fryer. This extra feature offers ease of cleaning in the oven cavity.
Cleaning and Caring for Your Kalorik Air Fryer
Cleaning the Kalorik air fryer is very easy. The manufacturer recommends cleaning your Kalorik air fryer after every use. It will prevent the accumulation of grease and gunk. The process is easy enough.
Once you are done using the device, unplug it. After it has cooled down, use a soapy water-soaked cloth to wash it. Do not use a brass sponge or other abrasive metal utensils to clean it. Do not, under any circumstances, plug in the fryer when damp. It can cause short-circuiting.
Why do I recommend the Kalorik Maxx air fryer?
With a digital touchscreen, this large, easy-to-use air fryer oven is ideal if you cook for one or many. Equipped with all the essentials, it includes an extra large 26-quart capacity. It can fit everything from single servings to full meals like a standard air fryer. Powered by 1700 watts to cook food up to 77 % faster than your traditional oven!
Ninja Foodi AirFryer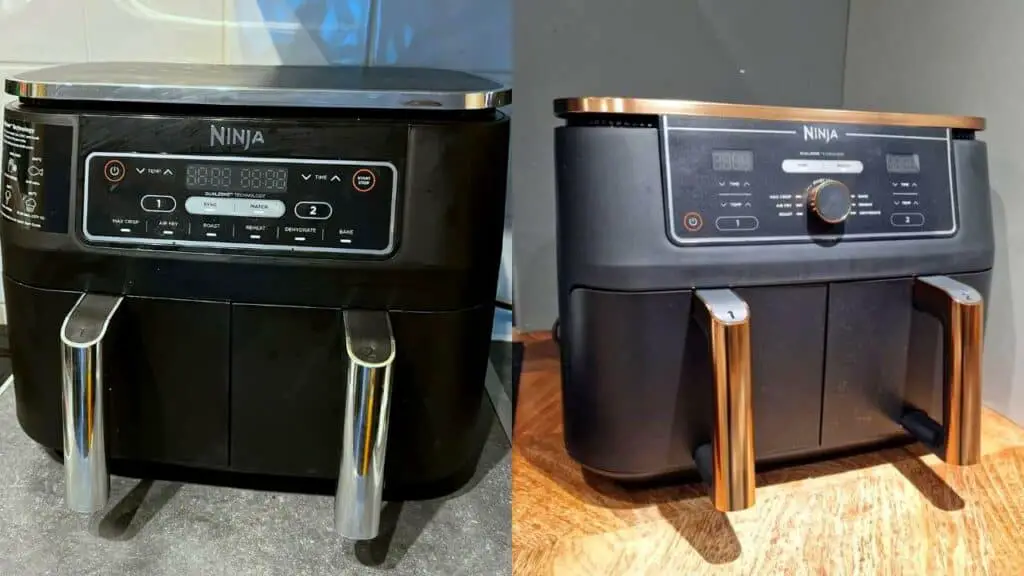 The Ninja Foodi Air Fryer has a 6-in-1 dual-zone Cooking System. It allows you to put two different foods in different baskets. Also, it finishes cooking simultaneously, giving you a faster cooking time.
It features a built-in fan, timer, and see-through doors. So you can monitor cooking progress, this air fryer is simple to use. It has adjustable temperature and time control, which will let you cook your favorite foods at the perfect temperature. And the sleek design looks great in your kitchen.
Features
The dual-zone technology results from an intelligent feature. It allows you to cook two different foods in two different ways and finish at the same time. It has two independent oven air fryer baskets. They are of the same cooking capacity and heating elements.
The technology utilizes the hot air circulation by the cyclonic fans. It is to cook the food using little or no oil.
The ninja foodi oven Air Fryer has a capacity of 8 quarts divided into equal halves among the two baskets. It can fit up to 4 pounds of French fries or chicken breasts.
It has an easy-to-use digital display with a touch screen. Here you select the cooking functions. You can also adjust the internal temperatures between 1050 F and 4500 F and the time in the display.
The ninja foodi air fryer can replace several kitchen appliances saving counter space. It will perfectly perform their functions. These functions include an oven, air fryer, and toaster oven. As well as broiling, baking, roasting, reheating, and dehydrating.
The air fryer has different zones. They have separate cyclonic fans, air fryer baskets, and instantaneous heaters. It allows you to cook your two meals separately. It is done by using the match cook button to copy settings in the different zones and faster cooking time.
Ninja Foodi comes with cooking support accessories. It includes 2 4-Quart baskets and 2 nonstick crisper plates. Also, 15 recipes, additional meal options & cooking charts.
Cleaning and Caring for Your Ninja Foodi Air Fryer
Ninja Foodi Air Fryer has removable parts that are safe to use in the dishwasher. So after every cooking session, you can simply take out the baskets and racks to put them in the washer.
If you do not own a dishwasher, you can clean it manually. Mix equal parts of water and soap. Then soak a sponge or paper towel and wipe the compartments gently. You have to perform the cleaning on an unplugged Ninja Foodi. Do not put the whole air fryer in the dishwasher, only removable parts.
Why do I recommend Ninja Foodi air fryer?
The Ninja Foodi AirFryer is a straightforward but powerful appliance. It gives you the freedom to prepare a wide variety of foods quickly, easily, and efficiently. You will mostly enjoy the smart-cook feature. Here you can switch from air fry mode to other types of foods seamlessly.
Kalorik Maxx air fryer oven vs. ninja foodi: Which is Best for your home?
As far as the best air fryer models go, choosing only one of these two mini convection ovens is hard. Here is a chart. It is based on additional features. As cooking modes and counter space value. This will help you choose the best conventional oven air fryer for your family.
| | | |
| --- | --- | --- |
| Product Name | Kalorik MAXX Complete Digital Air Fryer Oven | Ninja DZ201 Foodi Air Fryer |
| Brief Description | Complete Digital Air Fryer Oven, 26 Quart, 10-in-1 Countertop Toaster Oven Air Fryer Combo, Up to 500°, 14 Accessories & 60 Recipe Cookbook, 1750W, Stainless Steel. | 8 Quart 6-in-1 DualZone 2-Basket Air Fryer with 2 Independent Frying Baskets, Match Cook & Smart Finish to Roast, Broil, Dehydrate |
| Versatility | 10 in 1 | 6 in 1 |
| Accessories | 14 accessories including a bacon tray, rotisserie spit with forks and handle, 2-in-1 food dehydrator & steak tray, tray handle, dehydrating racks, a recipe booklet, etc. | Countertop oven, 2 air fryer baskets, 2 nonstick crisper plates. |
| Capacity | 16 Quarts, 26 Quarts | 8 Quarts |
| Weight | 17.2 pounds | 17.86 Pounds |
| Dimensions | 12.4″D x 15.55″W x 13.54″H | 13.86″D x 15.63″W x 12.4″H |
| Temperature Range | 105F to 500F | 105F to 450F |
| Maximum Temperature | 500 degree Fahrenheit | 450 degree Fahrenheit |
| Cooking Preset | 21 presets | 8 presets |
| Power (Wattage) | 1700 watts | 1800 watts |
| Color Available | Grey/Silver, Metallic Finish | Black & Grey, High Gloss Finish |
| Price | 16 QT- $189.00 26 QT- $272.00 | $199.99 |
| Value for Money | 4.5/5 | 4.8/5 |
| Amazon Customer Rating | 4.3/5 | 4.6/5 |
| Special Point | Vast Capacity | Best Seller |
Same Recipe in Kalorik Maxx air fryer oven vs. ninja food
Now that we know the differences in key features let's take a look at their practical operation. What about making french fries in both of these air fryers? How they differ in cooking time, texture, and taste.
In the Kalorik Maxx air fryer, slices of potatoes took 16 minutes at 400ºF on a single layer. The fries were crispy and golden.
In the Ninja Foodi, the fries were air fried at 390ºF for 20-23 minutes. They were flipped 3 times every 7 minutes or so. The fries were less brown in color compared to the Kalorik Maxx. But the crispiness was the same.
My suggestion
If you have a big family, I highly recommend the Kalorik Maxx Air Fryer oven. I bet it will be one of the best kitchen devices you have ever bought!
Not only the 14 accessories will make your life a lot easier, but they are also fancier. 21 presets will assist you in cooking almost any dish. And the dishes will be healthier too, without compromising the taste!
If you have a smaller family, go for the Ninja foodi air fryer. It occupies less space, so it is perfect for dorm rooms. This replaces a number of digital appliances. It is cheaper, energy efficient, and offers faster cooking. During the busy morning, you can prepare slices of toast and bacon simultaneously.
These are really the main differences. Otherwise, both air fryers are unique in their ways and unforgettable. And you can't go wrong with either of these.
Conclusion
Both Kalorik digital Maxx air fryer oven and ninja foodi have superior features. Especially compared to a traditional oven. So, Kalorik Maxx air fryer oven vs Ninja Foodi is a tough discussion!
Both products have proven themselves. Be it in quality, versatility, and performance for even professional chefs. Say you're looking for a product that offers convenient cooking capacity. The Kalorik Maxx air fryer is the clear winner. However, if you want something cheaper or easier to use, the ninja foodi does what it promises.
So fans of air-fried food should decide which key features are they looking for. With the help of this article, they can find the perfect air fryer according to their needs.