Last Updated on September 19, 2023 by River Tree Farms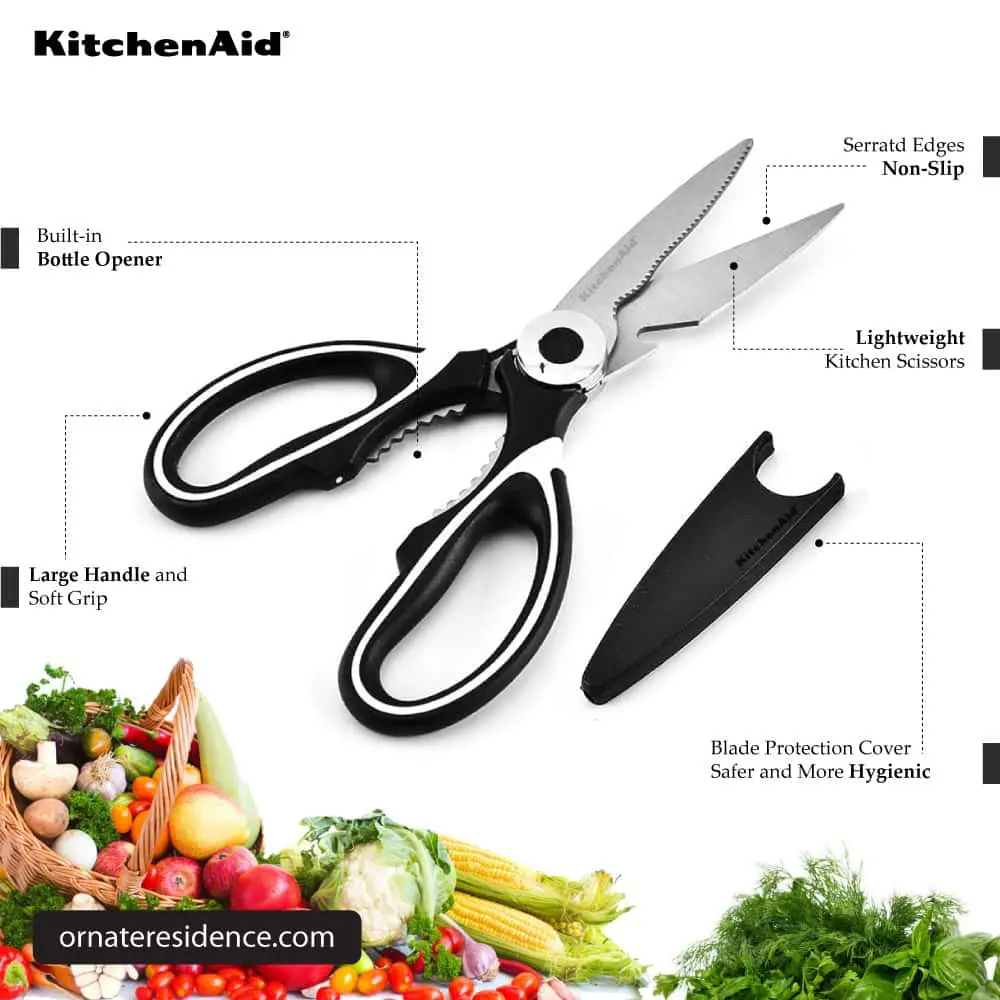 Having the right tools in the kitchen can make a big difference in your cooking skills. One such essential tool is the KitchenAid All Purpose Shears with protective sheath. These shears are a great addition to my kitchen. They make cooking easier and they look beautiful.
Design and Build Quality: The initial focus was on the well-thought-out design of these KitchenAid shears. They were designed carefully to be functional. They are made of strong stainless steel, so they will last a long time without getting rusty. The handles are designed to be ergonomic, providing a comfortable grip. You can use them for a long time without feeling any strain or discomfort.
The KitchenAid All Purpose Shears have a protective plastic sheath. It keeps the blades safe and sharp, and storage is easy. This sheath is great for safety. It stops accidental cuts when reaching into the kitchen drawer. The shears have a handy lock to keep them closed when not in use, making them even safer. As a multipurpose shears, you can use it for the following purpose:
Meat/fish cutter
Vegetable cutter
Gardening
Office uses
Many more
Performance of KitchenAid All Purpose Shears
When it comes to performance, these shears truly shine. The KitchenAid shears can handle various tasks, like cutting poultry, slicing herbs, trimming vegetables, and opening packaging, with great precision and efficiency. The sharp blades of the stainless steel easily cut through different textures, making food prep quicker and easier.
One notable aspect of their performance is their versatility. These shears can do it all, so you don't need different tools that take up space in your kitchen. These shears are great for cutting fresh chives or deboning a chicken. They are reliable and can handle a wide range of tasks.
Cleaning kitchen tools is often a chore. However, with the KitchenAid All Purpose Shears, it becomes hassle-free. The stainless steel material makes it easy to clean under water or in the dishwasher. The blades are designed to prevent food from getting stuck in hard-to-reach places. This helps in cleaning them thoroughly and keeping them hygienic.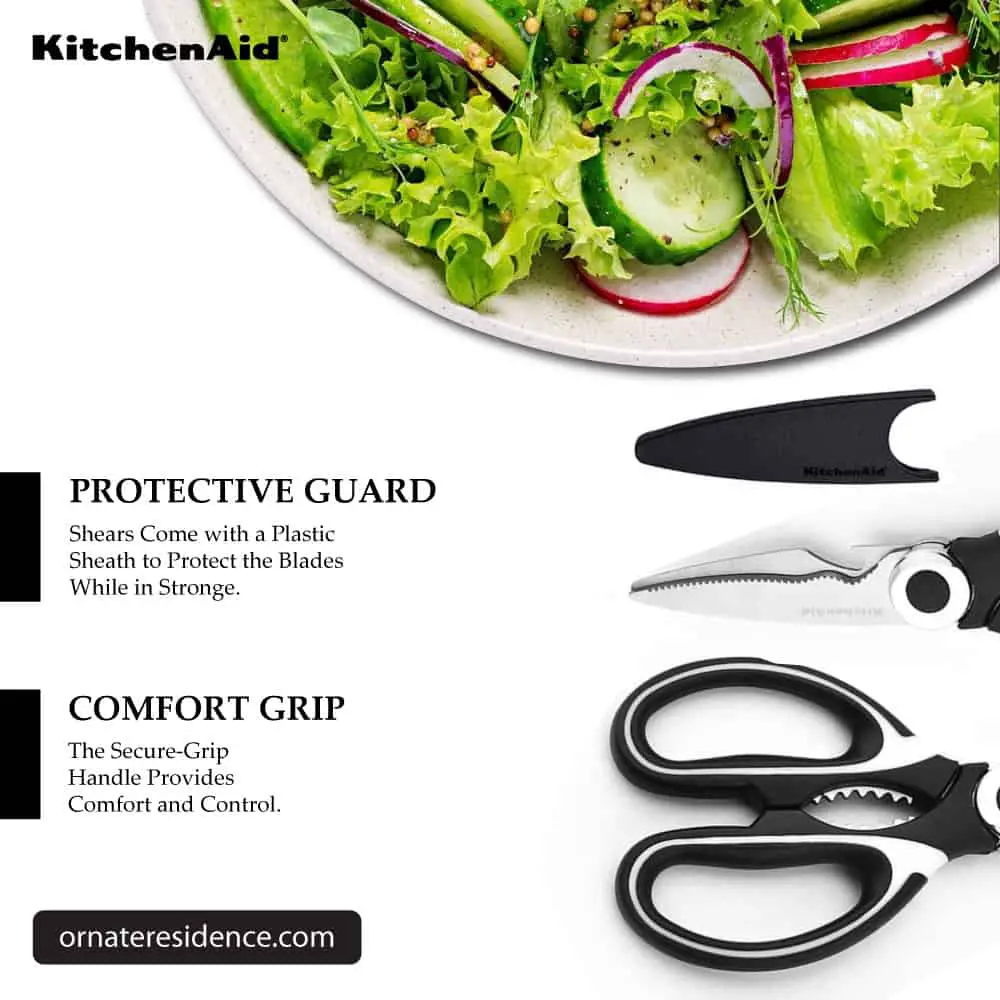 When looking at kitchen tools, durability is important. These shears are reliable and won't let you down. The strong steel blades can withstand a lot of use without getting damaged. The KitchenAid shears are reliable for both tough cuts and everyday tasks. They stay sharp and durable, making them a good long-term investment for any kitchen needs.
The KitchenAid All Purpose Shears with Protective Sheath provide great value for the price. Their multi-purpose nature saves you space and money since you don't have to buy different tools for different cutting tasks. These shears are durable and effective in the kitchen. They are a cost-effective solution for various cooking tasks.
My favorite ways to use kitchen shears? To "chop" lettuce to recreate those fancy salad-store salads right at my home.  Must say, kitchen shears are a total game-changer.
The KitchenAid All Purpose Shears with protective sheath are impressive, but there's room for improvement. One aspect that could be enhanced is the locking mechanism. Although functional, it can sometimes feel a bit finicky to engage or disengage. A smoother locking mechanism would further enhance the user experience.
The KitchenAid All Purpose Shears with Protective Sheath are a must-have for any kitchen. Their well-designed construction, impressive performance, and lasting durability make them a must-have tool for both beginner cooks and experienced chefs. The shears are great for many tasks, easy to clean, and a good value for money. They are considered one of the best kitchen tools.
Are you a home chef or do you just want efficient and quality kitchen tools? These shears will definitely make your cooking experience better. Preparing food becomes easy with the KitchenAid All Purpose Shears. Owning a reliable and versatile tool like this brings unmatched satisfaction. Let us know your own experience in comments.